My Father in Law recently made these bars and once I tasted them I became obsessed. He found the recipe on one of his fishing websites but of course I have altered the original recipe a bit so I will give you my version.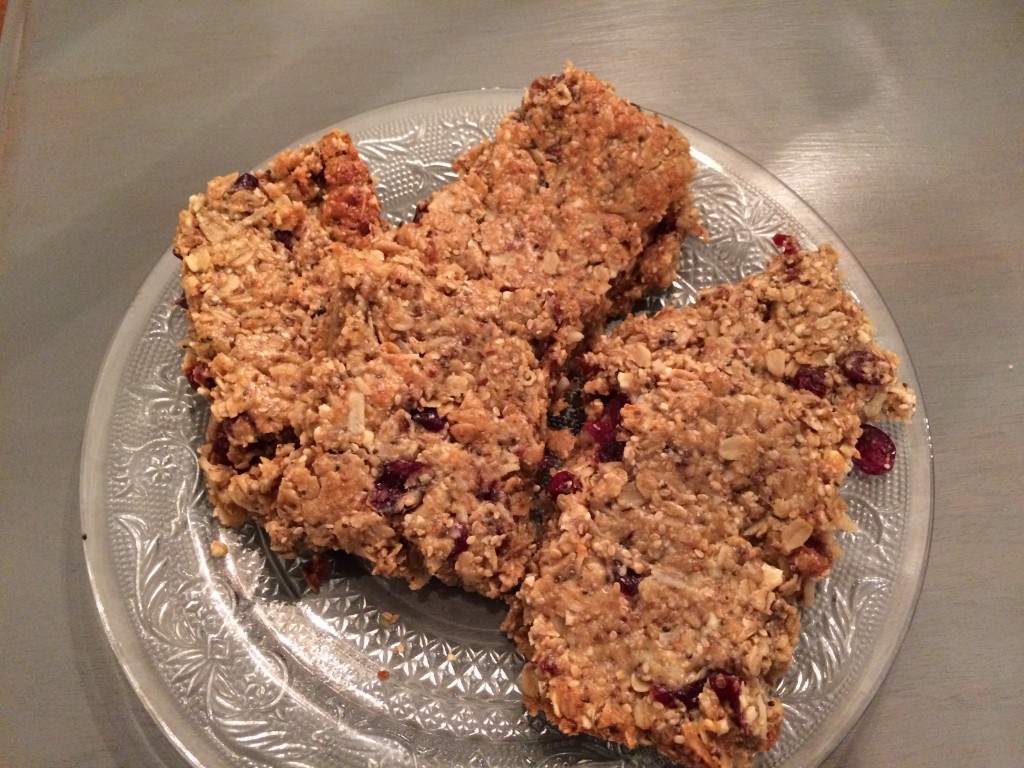 Because I love these bars so much I have stopped buying Quest bars and now only eat these.  I'm sure they don't have as much protein as Quest bars but I know exactly what is in them and they really satisfy your hunger.  I usually eat one before pilates with some vanilla greek yogurt if I have time, or I just shove one in my mouth while driving Trinity to school.  Beware….. Make sure you check your teeth after you eat them because there will probably be seeds between your teeth.
1 cup of honey
16 oz of tahini
1 teaspoon of vanilla
1 tablespoon virgin coconut oil melted
1/2 teaspoon sea salt
1/2 cup of chopped dates
2 cups of rolled oats
1 cup of unsweetened coconut
1/2 cup raw almonds chopped, vitamixed or run through the cuisinart
1/2 raw cashews chopped, vitamixed or run through the cuisinart
1/2 cup of sesame seeds
1/2 cup pumpkin seeds
1/2 cup dried cranberries
3 tablespoons ground flax seeds
2 tablespoons of chia seeds
Preheat oven to 350 degrees.  Line a 13 x9 dish with tinfoil and spray with pam, olive oil or coconut oil, which ever you have on hand.  Now the original recipe tells you to grease your measuring cups because measuring the honey and tahini can get difficult.  My approach, I bought a container of  tahini from Sprouts and used the whole thing to save myself from the mess.  Then I did the same thing with the honey.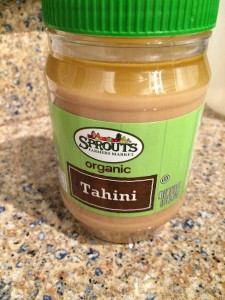 Stir together the honey, tahini, vanilla, coconut oil and sea salt in a big bowl.  The original recipe requires you to chop the nuts and the dates but because I couldn't be bothered I used my mini Cuisinart.  On my 3rd batch the Cuisinart broke and I once again refused to chop and have the nuts fly all over so I threw them in the Vitamix. They were more pulverized than the recipe calls for but who cares, it worked.
Add the dates, oats, coconut, almonds, cashews, sesame seeds, pumpkin seeds, ground flax, chia seeds and cranberries to the bowl.  Combine well.
Spread the batter into the pan and bake for approximately 20 minutes or until golden brown on the edges.  Cut them into bar sizes before they cool and then store them in the refrigerator in a ziploc.  A pan usually lasts me 2 weeks unless Lou has his way with him late night after way too much wine.
I hope you love them as much as me.  Before we go I have a funny story to leave you laughing.
Lou went for a physical a few weeks ago and the doctor told him he was just under 6 feet and weighed ?.  I don't want to give him away but the joke is, he was 6'2 when I met him and there is no way he has shrunk 2 inches. The doctor said it was possible with his disc/back issues but we don't believe it.  Either way the doctor told him he was officially overweight and needed to lose weight or get taller.  Lou's response was:  I think I would like to get taller, is there a way I can do that? 
He said this seriously with his deadpan salesman face and suddenly the doctor looked super worried.  He finally told the doctor, "I'm just kidding."  Poor doc thought he had a complete idiot on his table.  This has had us laughing for days.  Who wants to get taller?  I DO!
xoxo tiffani