Sorry I missed posting on Friday but I was busy making decorations for the junior high dance at Trinity's school. I was really excited because this was the first school decorating job I have led since TT passed away.  I used to love decorating for the auction night but was always so stressed about spending time away from Tiara and finding safe places to hide any supplies or decorations so Tiara wouldn't destroy them, that I haven't volunteered in over a year.  I bought out my volunteer service this year because I wasn't sure how I would feel about being involved.  Even though I didn't have to volunteer, I wanted to help when I read the email sent out on Monday begging for help.  How fun!

Tabitha offered to help me and we decided on a black and white theme after I had lots of other more creative idea Trinity shot down, one by one.  My favorite was a Candyland theme and both Trinity and her friend were horrified at the idea and kept laughing and snickering at me, so I agreed to a simple blank and white theme.  I guess they normally do the November dance in a Fall theme since the dance happens during the Fall but I just couldn't bring myself to decorate with orange and brown.
Either way, Tabitha came up with this great idea of making a tent with fabric and ribbons.  The kids only use 1/3 of the gym for the dance so you need to bring the space in somehow.  We had $400 to work with because that is our fundraising contribution for the year so I decided to use it all on decorations.  I actually came in under budget and the place looked really special.
We bought a book of black and white patterned scrapbooking paper and Tabitha made about 100 feet of paper garland.  I made about 60 tissue paper flowers/poms with black and white patterned tissue paper and I built the base for a non helium balloon art.
The weird thing was I only had 4 days to get ready and I never got stressed or anxious until Friday morning before set-up. I kept waiting for the anxiety to set in and come greet me like an old friend but she never showed up.  It was really strange and even Lou noticed.  On Thursday night he said to me "it doesn't even feel like you are in charge of the decorations, you are so relaxed, it's odd."
me:  "I know, it feels weird to me too."
It was actually really fun and easy making all the decorations and being able to lay them all over the living room without having to worry about them getting destroyed.  It was so easy, it was pathetic.  It made me feel so sad.
I cried a lot last week between missing TT and my broken heart over something I can't share with you.  My heart has been so heavy at times it feels like I am going to collapse from the weight of it and there is nothing I can do to fix it.  I have done everything possible and there is no solution.  I have been told that "God is doing the hard work" to try fix this problem but it will take lots of time.  It feels so bad.  I just keep telling myself there is a reason for this suffering and time will heal all, but it has been beyond difficult.  Not just difficult for me but for Lou, Tabitha and especially Trinity.
I guess this was part of the reason I was so excited to do the decorations because I was hoping it would get my mind off the troubles we are enduring.  I know girls love it when the dances are really decorated fancy.  I'm sure the boys could care less but I was hoping our decorations would cheer Trinity up and make the dance more fun.
Well back to the decorating part.  The most worrisome part was hanging the disco ball from the gym ceiling and hanging the lights.  One Dad usually does this job which requires climbing up a very large, scary ladder but he was busy the morning of set up and couldn't rearrange his schedule. I spoke with him on the phone the night before and he told me his procedure.  Okay,we can do this!  I decided I would need Lou's help before he went to work at noon, so we had to start early.
Tabitha and I got over to the school at 8:30 am and went in search of the ladder before Louie came over at 9:00.  Once we found the ladder, I knew I could never let Lou climb up it.  He has huge feet, back issues and this ladder was extremely intimidating,  and rather frighting looking. I have never seen a ladder like this.  Tabitha and I kept thinking there was a piece missing.
me:  "Tabitha, we can't let Dad climb up this!"
Tabitha:  "Yeah, I know.  But that means one of us is going to have to do it?  You are afraid of heights and so am I!"
me:  "I'm not afraid of heights, I get claustrophobic."
T:  "You can't drive over bridges or up a mountain."
me:"  Not the same thing.  I can totally do this, if you hold the scary pole while I'm on it.  I decorated at 20 foot tree at Caliber, remember?"
T:  " Ok, Mom.  Start lifting and lets move this thing inside."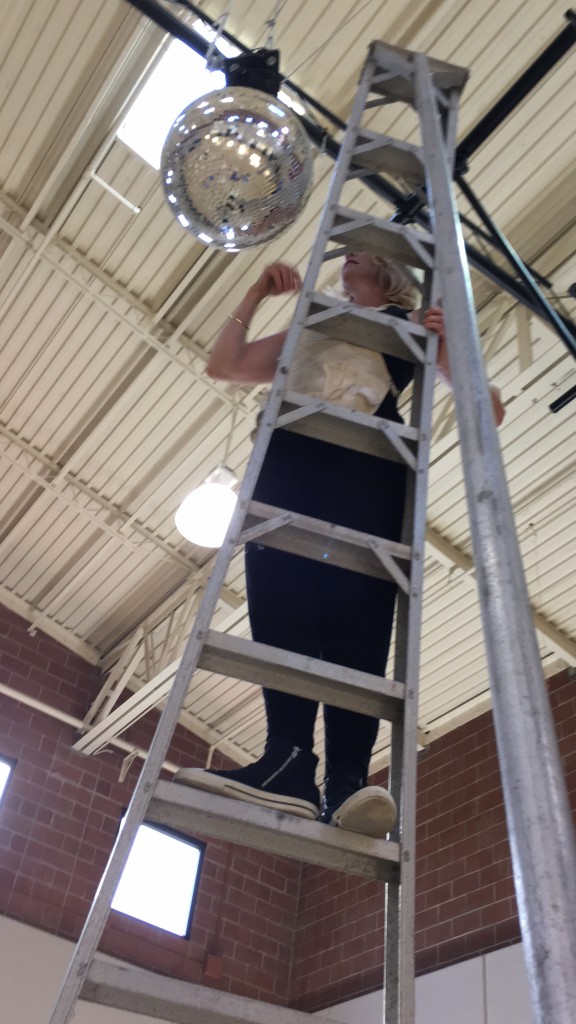 We get it in the gym and finally figure out how to set it up.  This thing has steps on one side and a long pole on the other.  Yes, you read that right, a pole.  Of course the base of the pole has anti slipping grips but you push the ladder closer or farther apart to get the height you need and there is no locking mechanism.  So if you don't have it up right enough it will slide open and you hit the floor.
We decided to start with the worst part first, putting up the disco ball.  This required me to walk up the ladder with the ball in my right hand, lean over, unclasp the hook on the ball and attach it to the hook suspended from the ceiling.  It took me 2 tries and Tabitha kept yelling at me not to fall back .  Once I did it and made it safely to the ground, I knew the rest would be easy.
Tabitha:  "I'm so glad Dad wasn't here to see that!"
me:  "I know."
We then decided we needed to move fast and try to get as much material hung as possible before Lou arrived.  We both thought he might freak out with me on the ladder and insist on doing it himself.  Well, we were wrong.
When he showed up in his size 16 flip flops and looked at the ladder he got this super stressed look on his face. He didn't even offer to climb it.  I put him straight to work on attaching the arch for the balloon arch base.  Once he was done with that we sent him for supplies and then home. We didn't want him messing with our rythym.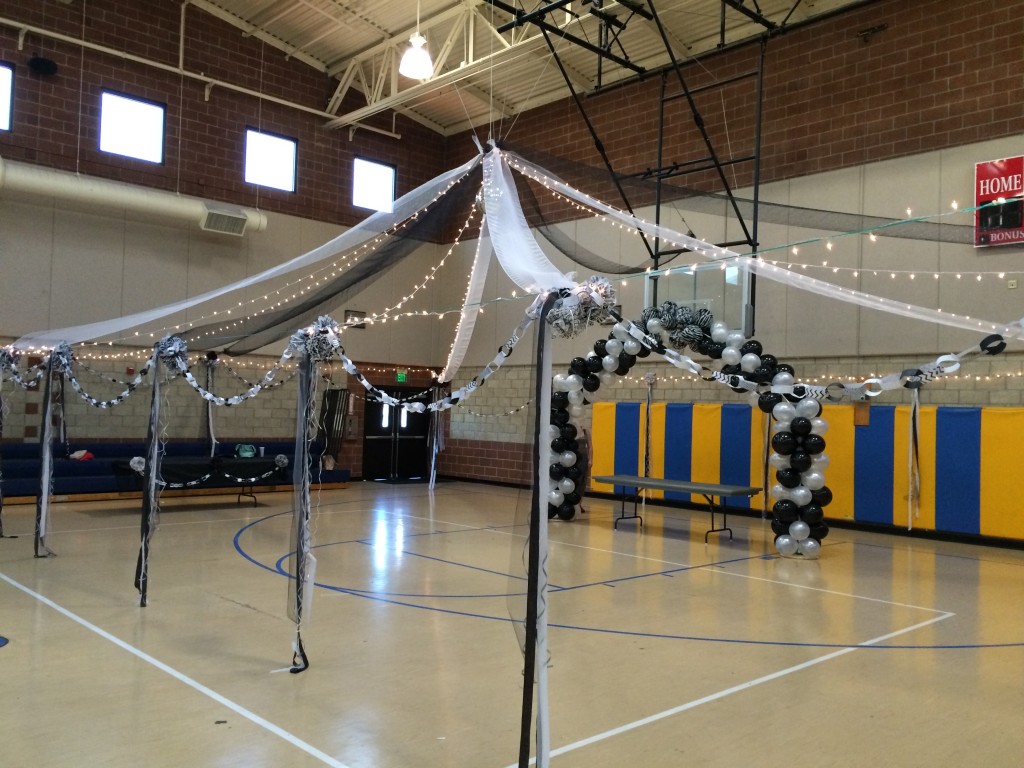 Tabitha and I worked so well together because we have the same eye and always ended up agreeing on the next step or where something should be placed.  No one on the committee showed up to help us until almost noon but it was perfect because we only needed 2 people at that point.  A friend showed up with lunch for us and then we started working on the balloon arch.  Another friend showed up and we were able to get everything up and ready by 2:30.  It only took us 6 hours and I was so proud of the result.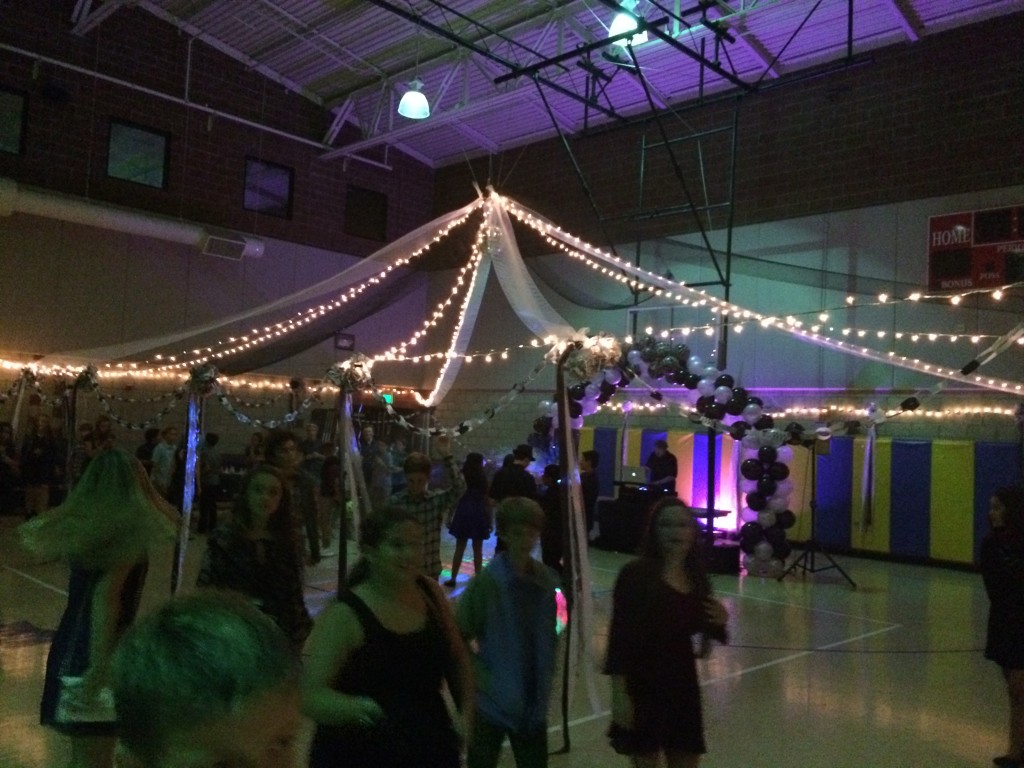 It was so cute because after the dance a bunch of Trinity's friends came up and thanked me and told me they loved it.  There is a woman named Mrs. Smith, who does the most amazing decorating for dances and events.  She has been at our school for years and every time she decorates for an event it blows everyone's mind, because it is so cool.  I always describe her as " more creative than me, with a trust fund size budget!"  Gotta love that!  One of the girls said to me:  "Once Mrs Smith left, we didn't think the decorating would be that great anymore.  This was so beautiful, Mrs. Smith would be so proud!"  I thought that was so cute, it made my whole night.  I did consult Mrs. Smith a few days prior to the dance to talk mechanics and she even offered to help me.  She is true decorating junkie like myself.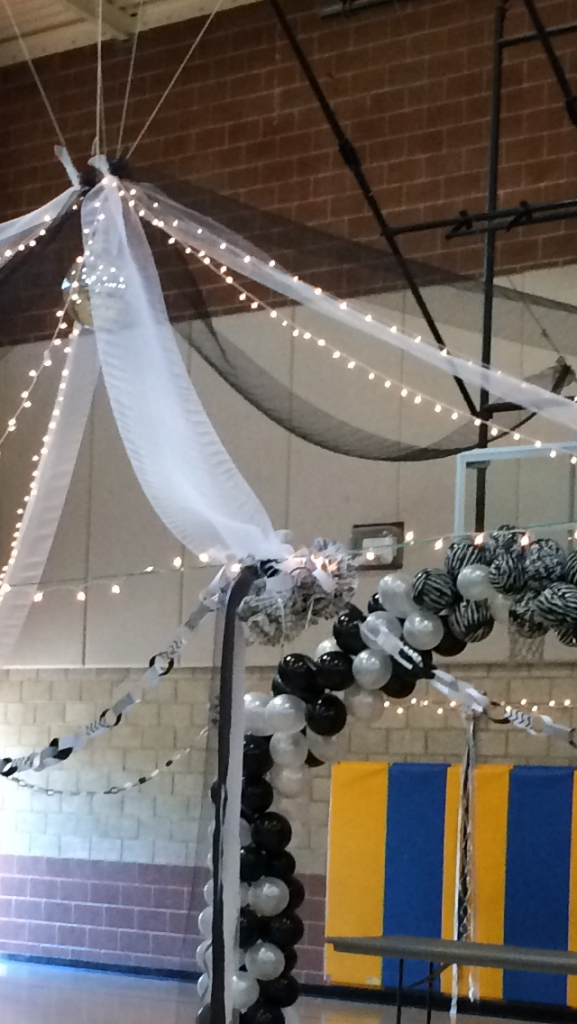 Hope everyone had a wonderful weekend!
xoxo tiffani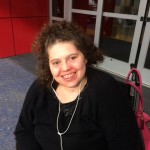 Save