Weirdly enough just last week Trinity asked me, "Mom have you ever met a celebrity or a movie star?"  "Hmmmm, not really."
I remembering seeing Mikhail Baryshnikov, the ballet dancer, at a restaurant in New York with my parents when I was young.  I remember seeing Mary McFadden, clothing designer, in the lobby of our hotel in Venice. I knocked on John Wayne's door frequently asking for signed autographs since he lived in a local neighborhood and I danced on stage with Chubby Checker on my 21st birthday in Las Vegas, but that's it. 
Question asked and answered.  Fast forward a week.  This Saturday Tabitha, Trinity and I decided to take a trip to Santee Alley in Los Angeles. 
Funny enough I told Trinity to take pictures so she could put together a new YouTube video and I never once took out my phone to snap a photo, nor did she during most of the outing.  I try to keep my phone in my purse  when I am with my family but now as I write this I wish I had some photos to show you how crazy this place is. 
Luckily, the girls did take a selfie in the car on the way to LA.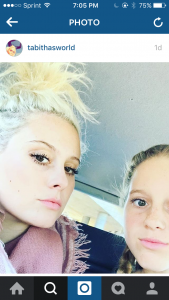 Because I feel too lazy to describe Santee Alley, I grabbed this picture off their website.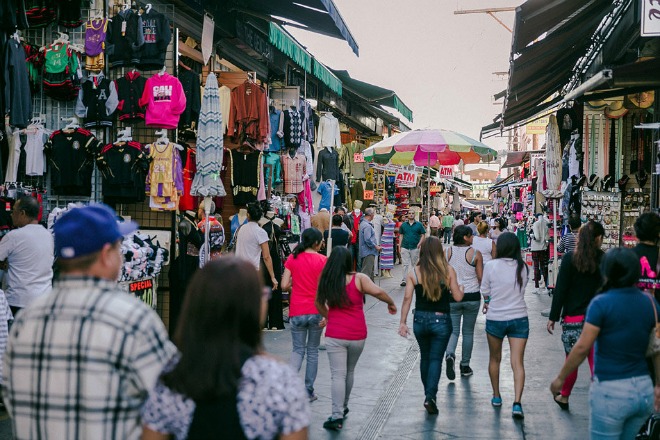 Imagine every language you have ever heard being spoken all around you while rap music blares from different store fronts and people call out to you to buy their goods.  Everything is super cheap and they have wonderful legal knock offs so it is a really fun place to shop with the girls.  That being said it can be very overwhelming if you have a hard time making decisions.  Subject number one, Trinity.  She is obsessed with make-up, nail art and cell phone cases.  Each vendor had some make-up and cell phone cases so we had to constantly stop, stare and then walk away.  At one point we went into a shop filled with only make-up.  She couldn't pick out 1 thing. I told each girl they had $50 to spend on anything they wanted and an hour into our trip, Trinity had not purchased one thing and Tabitha had gone over her limit.  Normally Trinity is a queen shopper.  Send her to the mall with $10 and she admits to having borrowed pennies from friends in order to purchase something.  But Santee had too many choices all within her budget so she became paralyzed.  This is exactly how I am.
Whenever my Mom would take me shopping as a teenager and say I could have anything I wanted, and she meant it.  I couldn't find one thing to buy.  The days she was in a hurry and had no time to shop for me, perfect clothes and shoes jumped out a me from the shelves, begging me to take them home. 
After more than 2 hours of roaming and Trinity only holding a hideous Emoji pillow her grandma bought her, I developed a plan.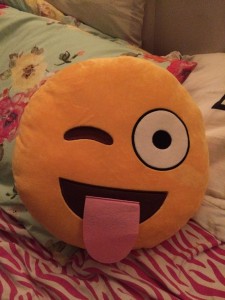 Since we had walked the entire alley I decided we would turn right, go up a block and come back down the next street until we got to the corner that had the nail art she wanted.  We would go into the nail art store with a purpose, force her to make some quick decisions and then head home.  Everyone liked the idea because we were all exhausted from all the walking and over stimulation to our nerves. 
We turned down the next block and suddenly it felt like we could breathe.  There were shops on one side, not both sides, and they were regular stores, people and items weren't being hurled at you.  As we were all walking in a determined daze to finish this shopping trip, Trinity looks over to her left and stops. 
"That's Cameron Dallas!"  Now this person she is talking about is standing literally 2 feet in front of us in an alcove with his Mom, his dog and a huge duffle bag with his name on it. They were just standing there as if they were waiting for something.  I wasn't sure what to do.  I have heard her mention his name a thousand times and yes he looked like a Disney star which he isn't but I thought she might keep walking.  Nope.  She said it again.
"That's Cameron Dallas."  She is now stopped standing in front of him staring and Tabitha belts out "Who is Cameron Dallas?" 
My brave girl, takes a step closer to him and asks, "Can I get a picture with you?"  He says, "Sure," And poses with his arm around her for a picture.  So sweet and appreciative that Trinity asked him.  We thanked him profusely and continued on our mission in a state of shock, especially Trinity.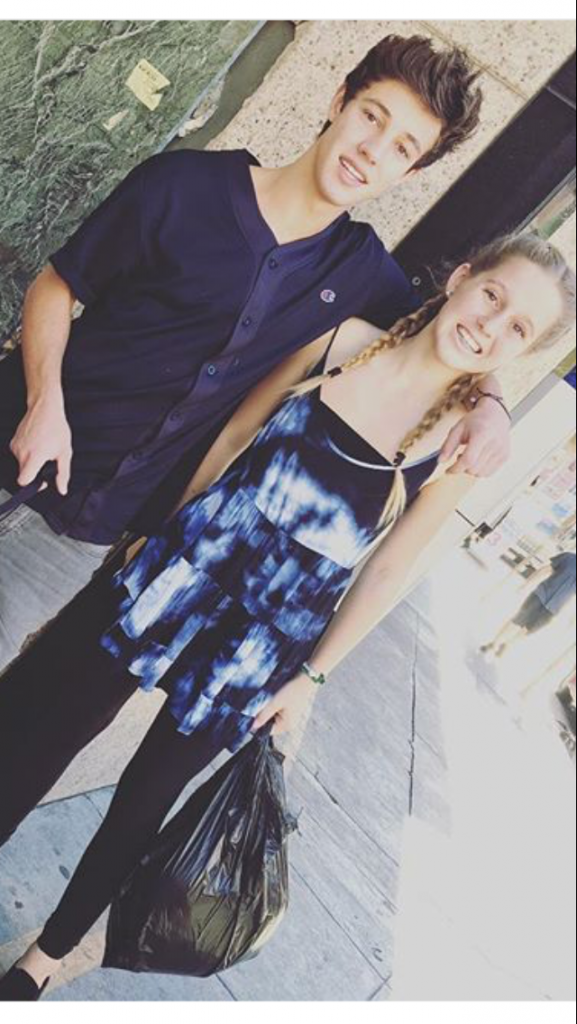 Who is Cameron Dallas you ask?  A famous You tube star who won a kids choice award last year and was in the internet movie Expelled that Trinity and her friends have watched countless times.  He is her celebrity crush and she literally ran into him on the street.  It would be like a 45 year old woman running into Brad Pitt, Matthew McConaughey or Tom Cruise. 
How crazy is that?  The even weirder part is she has been talking a lot lately about having run in encounters with famous people. 
Did we make it to the nail art store, you wonder.  Yes we did and she has been working on her nails tirelessly ever since.
Happy Veteren's Day and thank you to all who serve and have dedicated their lives to keeping us all safe.
xoxo tiffani