I am guessing most woman don't change their wedding ring setting several times throughout the years unless they own a jewelry store, am I right?  I just don't have any friends who have changed up their settings unless they got a bigger center diamond or they outgrew their old ring.  Well, I think I am the exception to the rule.  I am now wearing my 4th ring setting in 23 years with hardly any fault of my own.  I mean kinda hardly any fault of my own.  Ok, I tend to be very hard on things and have a propensity for breaking stuff but other than that, not really my fault.
The story goes like this.  When Lou bought my engagement ring his father told him to get the biggest center stone possible so he would never have to upgrade.  "Who cares what the quality is, just go big or go home."  I have to say I think it was brilliant advice as I have never once wished or coveted a bigger center stone.  Now I will admit that my center stone is about 2 1/2 carats  but if you ask Lou he will tell you it is closer to 3 but I think he is exaggerating.  What he will admit is that it has an obvious flaw if you look closely with a magnifying glass but who cares?  I have never once complained and have always been super grateful for my ring.
The first setting was in gold with side diamonds and very beautiful but after giving birth to Tabitha and living through enormous amounts of stress I could no longer wear it.  Why you ask?  For some reason the gold burned my skin because I had so much acid in my system from stress.  Also it was a little more fitted than I liked so it got to the point I could no longer wear it.  I think this was about 5 years into our marriage we had to buy another setting.
I picked out this vintage setting in platinum from my parent's jeweler and he gave us a great deal.  I loved it, but unfortunately platinum bends easily, which I don't know at the time.  Well let's just say my ring kept turning itself into an oval instead of a circle.  I bent it so much I kept having to get it repaired every few months.  Plus I bent the prongs holding in the center stone and pretty much everything on the ring became mis-shappen.  After about 5 years of bringing the setting in for repairs so it could be bent back into shape our jeweler had enough.
When I showed up to pick up my ring, it wasn't there.  Instead of my dainty vintage platinum setting, I had a white gold sturdy setting that was pretty, but so not my taste.  I was rather confused when he took it out of the envelope and showed it to me.
"Where is my ring?"
him:  "Here is your new ring!"  You can't destroy this one!!!  "It is white gold which won't bend, it has 6 prongs for the center diamond so you won't lose it and it is virtually indestructible."
me:  "Oh….. ok thanks!  So my old setting is gone?"
him:  "Yes, this is what you get, instead."
I thanked him and left feeling a little baffled.  I hadn't realized how much I had tested his nerves by being so hard on my ring.  I did pay for most of the repairs but apparently he was just over me.  I knew better than to get mad because there was no point.  My old setting was gone and now I had something new.
Was the new setting indestructible? Time would tell.  Well, for the first 6 to 8 years it was, but then problems started creeping up.  The issue with this 3rd setting was that 1 of the 6 prongs for the center diamond was also breaking or rather getting sliced off.  Apparently this is virtually impossible to do to a prong of that size and strength but it happened to me more times than I can count.  It wasn't a huge deal until the past few years.  As soon as he would fix it I would break it off again.  For the last year of Tiara's life, I hardly worn my ring at all because a prong was always missing and if I lost the middle diamond I knew it would never be replaced.  I am thinking that diamond is the only thing of value we actually own, paid in full.
Unfortunately, I was wearing my ring the fateful night we admitted Tiara to the pysch ward at UCLA.
When Tiara was in the hospital I would get frantic with my hands.  Sounds weird but I would appear calm to everyone else but every time I washed my hands I would accidently scrape the wall, bump them into a counter or smack them on the side of the bed trying to move her around.  So I always had cuts and gashes while she was admitted.  That night I was especially frantic at the thought of leaving her and I had banged my hands against this one counter which was sticking out and attacking me or rather it felt like that, over and over.  I couldn't seem to avoid that counter to save my life.
After she was admitted and I was upstairs filling out the paperwork with her life history I looked down and one of the 2 diamonds that flanked the center diamond was missing.  I just sighed and kept working on the paperwork, but I was super bummed.  It was a decent size diamond and I felt like it would cost me at least 500$ to replace it.  UGH!  From that point on I left my ring in the jewelry box and wore no ring or a simple ring I received for my 21st birthday.
Months after Tiara passed away I decided I really wanted to start wearing my wedding ring again.  I start stalking Pinterest looking for settings and then went to see my jeweler.  I brought them a picture of a ring I wanted and they estimated it would cost $2800 just for the setting.  Well funny enough the woman who worked at my jewelers knew me and mentioned I should go to this other store and look at their selection.
Well, I went to the other store which is located in Corona del Mar and happened to meet with the owner.  I told her my story. I destroy every ring and am super hard on my jewelry.  She looked at me and said " Well, I can't sell you anything here!"  I loved her instantly.  She looked at my ring and declared it was impossible to break off the prongs my jeweler had set and in addition to making the impossible happen, I also had taken off the top layer of white gold.  Ouch.  As a woman who made her living from selling fine jewels she laughed at me.  She gave me a lecture on protecting them, not wearing them while you garden or paint or do dishes or change diapers or exercise or……..  I mean the list was endless.  This was a ring not a newborn.  She found me a setting she thought I might be able to handle but even with the discount she offered me it was way out of my budget.
So the next week I decided I had to go to Los Angeles and find a deal in the jewelry district.  I couldn't afford the locals and I really wanted to wear my ring so I had to find a good deal.  So Tabitha and I drove to LA and started looking.  It is really weird because you walk into a large showroom with a bunch of different vendors and everyone is watching you go from vendor to vendor.  It felt so rude but Tabitha told me it was fine, that was how it worked.  I wasn't a fan and just as we were ready to leave I stopped at a case which I wasn't planning to stop at and saw the setting.  The man was so nice and was the first jeweler to offer me trade in value for my old gold and diamond.  I made a snap decision to buy the setting since it was 1/3 of every other setting in Newport and he could remount my diamond in the new setting in an hour.  WOW!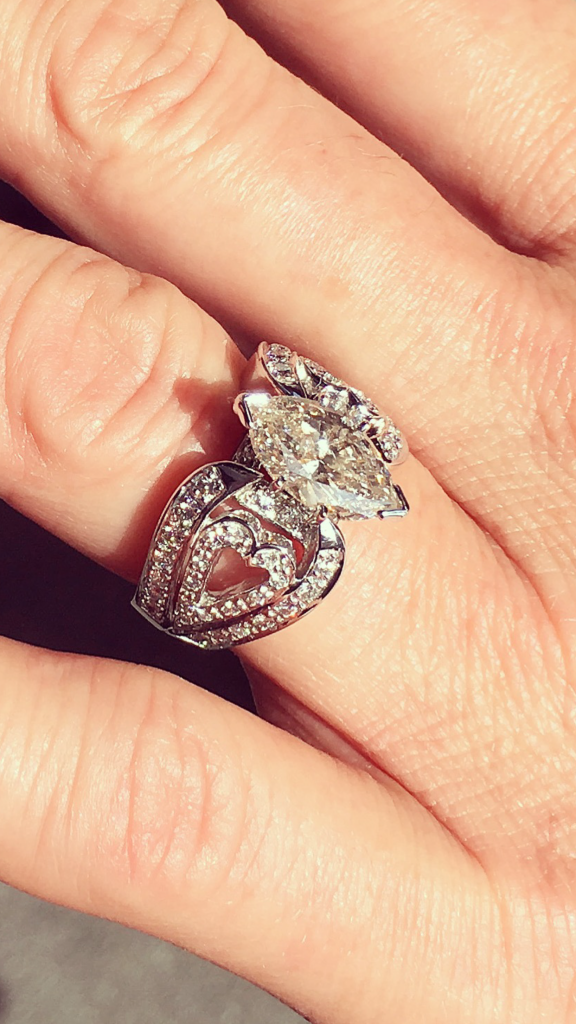 So here is the final product.  I love it, now! Boy do my hands look old!  Just saying, this old age thing sucks!
The truth is when he showed it to me I kinda freaked out. I thanked him and rushed out.  It looked way too blingy for me.  If you knew me when I was young you might be surprised by this statement but as an adult I don't own or wear flashy material things.  It seemed way too fancy and I started panicking.  Tabitha calmed me down but it took me days to get used to it, but now I am thrilled to actually have a wedding ring I can wear.

Hope you all have a wonderful weekend!
xoxo tiffani