So despite feeling in the slumps lately I completed a large project which I have been talking about doing for years and it wasn't until 2 weeks I actually tackled it.  What is it you ask?  Refinish the dining room table we received as a wedding present 23 years ago and have been using ever since. I also wanted to paint all the chairs, recover the chair seats and add a bench to one side designed and built by my talented hubby.  Yep and I am happy to report I finished it all and it came out better than I could have anticipated.
This is my old dining room table in our other home.  I'm so lame I didn't take any before pictures when I started the project.  Super typical of me.  Once I decide to do something I can't even be bothered with pictures I'm in such a hurry.  In this picture you can't see but the finish on the dark table is soooo sticky and gummy from wax build up that you can't lay down a piece of paper without the paper sticking to table.  Once you try and lift the paper, half of it stays on the table, like a super annoying price sticker you can't get off something.  As a result you couldn't anything down on the table you wanted to stay in one piece.  We pretty much ate most of our meals outside but with the weather hoping cooling at some point in the future I knew we would need to start eating inside eventually.  Time to get to work!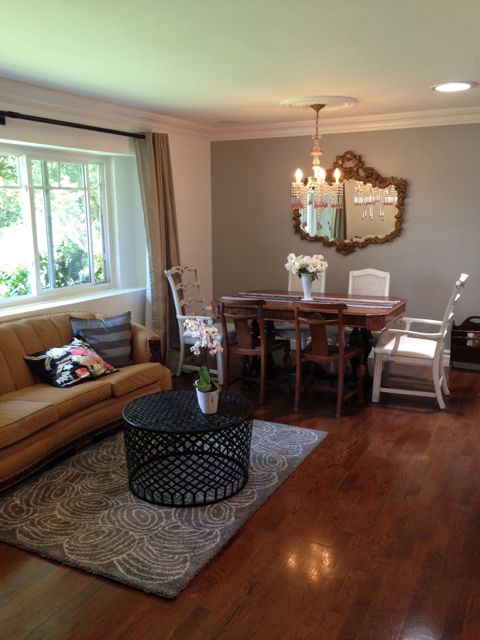 So my plan was to sand away the old finish and stain it gray.  I started 2 Saturdays ago when everyone else in the family was either having fun with friends or working.  Once I started sanding with my circular sander I realized this was a bigger job than I anticipated.  The layers were so thick I realized I needed to scrape off the finish, not just sand it.  Instead of buying a stripper I decided to pull out my old heat gun.  Well, that didn't work that great either and I ended up with a big burn on my shoulder which is in a state of scarring.  After 4 hours and only 1/3 of the table prepped, I decided to call it quits for the day and buy some stripper in the morning.
After Church the next day I came home with a low odor stripper and got to work.  WOW!  I wish I would have known how fun it was to strip furniture.  I loved scraping off the old gunk.  It was better than picking the worst pimple you could imagine.  The kind that squirts puss on the mirror or you see a large black head emerge on your finger.  Love that!  I am a born picker, just ask my girls and Lou.  They run from me if they have any blemishes on their skin.

Back to the project.  So, the top of the table was now free of any finish but the base was in the same condition.  I realized I could never deal with refinishing the base so I was going to have to leave it dark with a gray top or use chalk paint which could be applied to any surface without prep.  I know my limits.

Day 4 I stained the top gray and loved it but the dark base looked horrible with the gray top.  Not surprising.  I was surprised by how pretty the gray came out. I didn't want to screw up the rest of the table so off I went to buy some white chalk paint.  I really wanted to make my own but because I had never done it before and this table was super important I paid for real chalk paint which is ridiculously expensive.  One quart of paint with the wax was $75, OUCH!  Thank goodness it was enough for the entire project and I have to admit it really was worth it.  The stuff is amazing.
Are you dying to the pictures?  OK fine, I let you see them before I finish my story.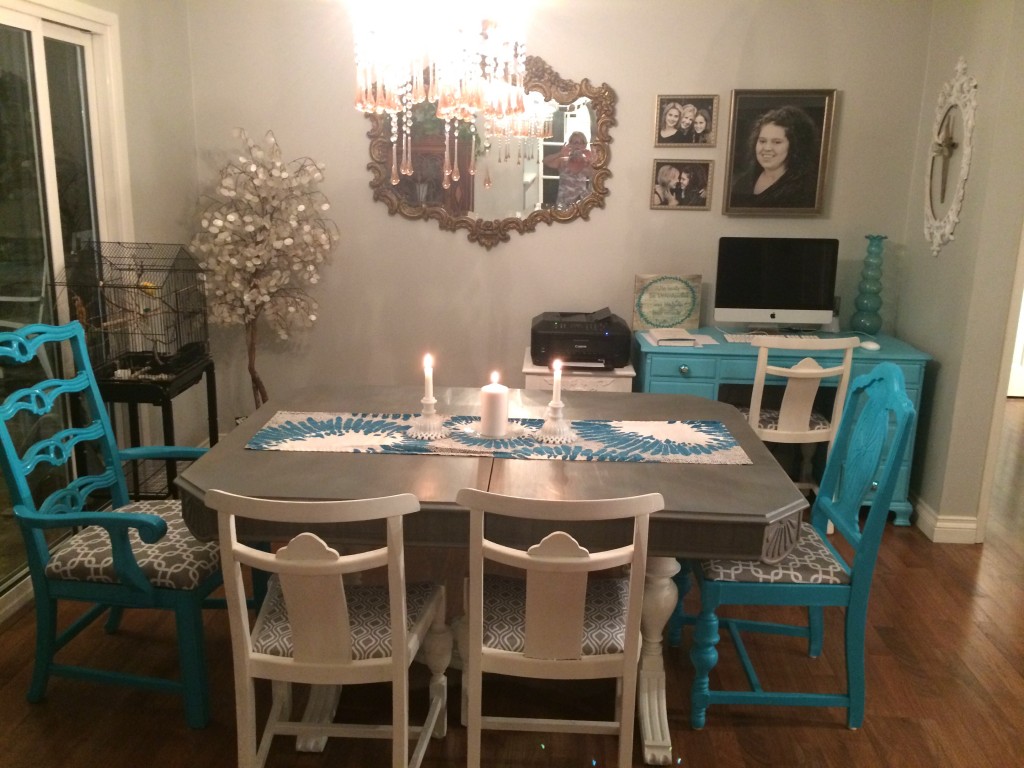 So you can see the table looks great and then I painted the 2 brown chairs white, painted the end chairs turquoise to match my desk and the bench is on the other side to match the table.  Here it is.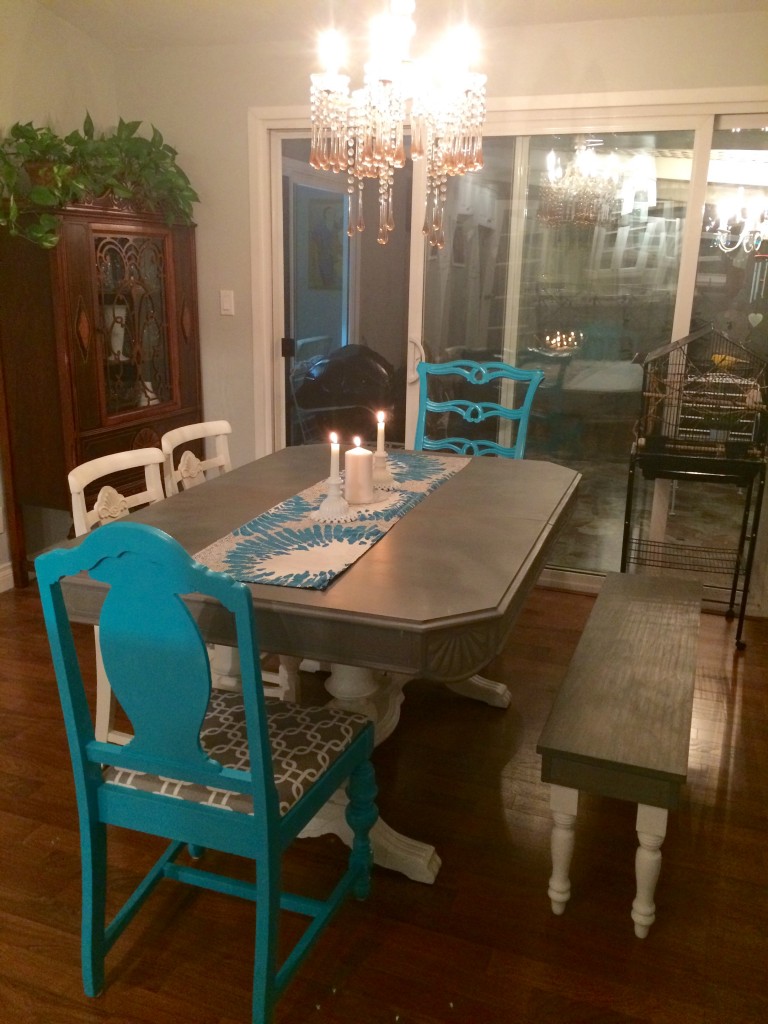 Can you believe Louie made that?  I know, he is getting really good.  I decided to keep it neutral so I did it the same as the table.  As for the fabric on the chairs, can you believe I had the strength to pick something so subtle and plain?  I know. It was really hard for me but I knew I needed to keep it tame with the bright chairs.  So now I have a whole new dining room and I really love it.  It only took me 2 weeks but it was well worth it.  I also wanted to show you the beautiful plaque a reader sent me just last month.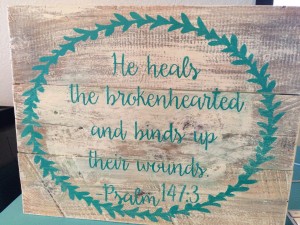 It sits to the left of my computer, and I can see if from every room.  I love it.  Thank you Courtney!
So now I have shared with you my most recent project.  I am loving writing again and realized I do have so many more things to share with all of you.  I've been gone for so long and need you guys. I am going to start with writing Monday, Wednesday and Friday and see where that leads me. 
xoxo
tiffani