I can't believe it is November 1 and our family has to celebrate the holidays without Tiara.  I have been dreading the holidays and now they are here.  It is more than I can bare.
Last Tuesday, would have been Tiara's 17th birthday and the day was much harder to endure than I anticipated.  I felt like a pile of bricks was dumped onto me Monday night and I couldn't seem to get them off of me until Wednesday night. They didn't come off in a heap but slowly one at a time.  And just when I thought they had all fallen off, I could still feel some pushing deep into my shoulder blades through my chest and into my heart.
And then Halloween approached and everyone on social media, in the stores and everywhere I looked were excited to dress up and attend Halloween festivities.  Not me.  I had nothing planned.
Every Halloween is hard because it is the last day of October and normally Lou is always at work. Sales.  So in the past, I always worried about making sure Trinity had plans with someone whom I could trust to make sure she would have a fun and safe night because I had to stay home and hand out candy with Tiara.  Tabitha, the make-up expert and Halloween aficiando, always has faces to paint and costumes to adorn.  She is busy on Halloween from sunrise to sunset every year and loves every bit of it.  Tiara and I wait for some cute kids to cheer us up with their adorable costumes.  She loved to put candy in their bags.  Last year she was too tired and slow, but crawled to the door to see the kids before they walked away.  One year she answered the door without her shirt on.  That really scared the kids but made me laugh.  Either way it was always fun for us and her excitement over a few kids and seeing her sisters dressed up was enough for us.  Plus, she always stole a bunch of candy from the bowl.
This year Trinity left at noon to start getting ready with friends, Tabitha had faces and costumes to prepare, Lou worked, and I had no plans.  Don't get me wrong I could have asked a friend to bring me along and plenty would have offered but I didn't really feel like socializing nor did I feel like staying home.  I was just sad.  I made some dinner, folded laundry, drank a bunch of sparkling water (had to pick up Trinity later that night), walked Stella and at 8:00 pm helped Tabitha and Lei get ready for their night.  Lou finally came home, I picked up Trinity, came home and drank my wine and woke up still feeling blah.  Thank goodness it was fall back and we gained another hour because I ended up staying up with Lou until midnight, both of us sulking.
The next morning I woke up with anxiety because it was All Souls day at our Church and we were attending the noon mass because they were having a special ceremony for all the Parishoners who had passed away since last November.  I had never been to this special Mass before and didn't know what to expect but I knew we were supposed to walk up to the front of the church when they called Tiara's name.  After the priest did the homily they announced each person's name and someone from the family or the entire family walked up to the front, accepted a long stemmed white rose and one person walked up to the altar and placed the rose in a bouquet of beautiful Magnolia leaves.  After everyone's name was called a huge bouquet of perfect white roses sat at the base of the altar and was then moved over to reside below Mary.  They also had a beautiful book with all the deceased names inscribed.   It was a really beautiful sentiment but also very hard.  The four of us walked up together, I received the flower, placed it in the bouquet, we walked over and lit a candle for Tiara and said a prayer.  After Mass a couple who we have seen at Mass for years came up and hugged us and asked who had passed away in our family.  They had no idea our daughter had died.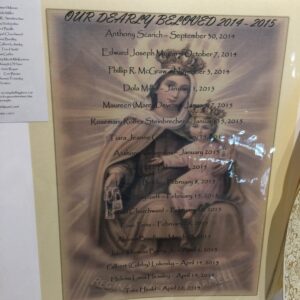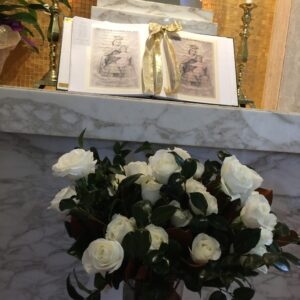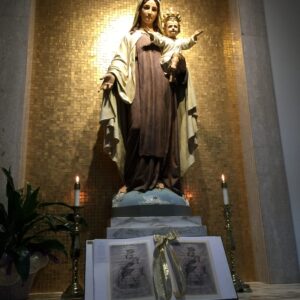 You see, I/we have been attending Mass our whole life at OLMC but have never been involved.  I go to 10am Mass, smile at all the familiar faces, say hello and good-bye and don't see them again until the next week.  Once Tiara passed away I promised myself I would actually involve myself in my parish as I no longer had any excuses for my lack of participation and I wanted to be apart of my church, not just an attendee. 
So this Thursday I attended the Soul group and the same thing happened.  At the end of the bible study we gathered for prayer and then there was an opportunity for prayer intentions.  After 5 other women asked for prayers for different people in their lives, I finally spoke up and asked for prayers for my family as they were grieving the loss of my daughter.  Literally every head in the circle lifted and looked at me in shock and sadness.  Once all the intentions were spoken and the prayer was finished, I was instantly pulled into a hug by several women whom I have been sitting with for years.  They all embraced me with tears in their eyes and told me "We had no idea, but you are stuck with us now!" It felt really good to be wanted and to belong.

And now for the most amazing part of my week.  I started Pilates 3 weeks after Tiara passed away and have been going to the 8:15 am class during the weekdays ever since.  It is my therapy.  It is so hard, I can't think about much else, except getting my body to do what it is supposed to do.
A few months ago, I saw a lady I recognized from high school in my class.  We will call her Kim, which isn't her real name.  There are only 10 women in the class.  I went up, said Hi and reminded her we went to high school together and told her my name.  She too got hooked on the Pilates and I see her most mornings.  I remembered she was a gifted volleyball player and mentioned Tabitha used to play at Newport Harbor, where she also played.
This Thursday, I got to class early and was talking to the owners.  They were asking where Tabitha was, because she usually goes to class with me, since she quit her job.  We were talking about Tabitha and Trinity and the passing of Tiara when a woman who I haven't seen in our class before walked in.  She went to her reformer and I kept talking.  At the point I was talking about how Tabitha used to be a great athlete, Kim walked in.  She looked at me and said "Wait, your daughter played at Harbor?"  "Yes."  I was surprised she seemed surprised because I had mentioned it before but I figured maybe she was tired the first time I mentioned it?  We then had this conversation about the stresses of playing on the team at Newport. 
Class started, we sweat our butts off and after class she walked up to talk more about volleyball.  Just then the woman I didn't recognize interrupted our conversation.  "Excuse me."  She was looking directly at me.  "Did you say, your daughter passed away?"
me: "Yes, my daughter passed away in January."
At this point I could see Kim look oddly at me.  Clearly she didn't know about Tiara.

woman: "I am so sorry to hear that.  I am a child psychologist and it sounds like your girls have anxiety, you should really take them to see a counselor."
me: "Thank you so much, I am in the process of doing that, we all need some help right now."

Then Kim looks over at me and says "Your daughter passed away?  My daughter just passed away 2 1/2 months ago.  I thought she was talking to me?" 
I was stunned.  Her middle child, a daughter,  just passed away.

Kim had started Pilates several weeks after her daughter passed as her therapy.  Talk about Godly intervention.   I am sure that Kim and I would never have known that we were each suffering through the same loss unless that other woman walked up and kindly interrupted us to give me helpful advice.  I was so grateful this woman spoke up because now I have a new friend who understands. 
And so this week as much as I felt an overwhelming amount of loss and hurt, some great things happened. 
And so I wrote this today because I was feeling so low and needed to write.  A friend who lost her husband this year asked me if I still wrote my blog.  I told her "no, because it was about Tiara and I and I don't feel like I have anything important I want to say."  She said " Even when you wrote about other things it always touched us, so if you feel like writing, you should, we all like it."  So I listened.

Ohhh, it felt so good to write this.  Thanks for listening.
xoxo
tiffani