For those of you who follow me on my personal Facebook you already know, but for everyone else here it is:  I got a dog!  Or rather our family adopted a rescue miniature poodle mix last Monday.  I love Mickey our canary and yes he has been singing a lot but it just wasn't enough.  Last weekend when I dropped Trinity off at play practice I had 2 hours to do what ever I wanted.  I felt a little lost just doing errands and ended up at a Petco in Irvine that was having a Maltese adoption day.  As soon as I saw those adorable little dogs and put one in my arms, I knew I had to get a lap dog asap.  I held a 10 year old male named Munchkin for about 20 minutes and was totally in love but had the sense to walk away because I knew getting a 10 year old dog wasn't the smartest thing for my family after losing TT.
I walked inside the store and wow, more dogs up for adoption.  I spent some time with a poodle mix, named Tommy but he was very frightened of me so once again I walked away.  I went to pick up Trinity from practice and we went home and spent some time looking up dogs on the computer.  I kept coming back to the same 2 rescue sites but I didn't fill out an application.
Sunday after church I was hanging out with my nephew because we needed to finish building the rocket we had been working on for a couple of weeks.  While we were waiting for everyone to get home so we could have our launch party I got on my sister's computer and started looking for dogs again.  I filled out an application for Love Bugs Rescue and then we all left for lunch.  After lunch we all went to the park to launch the rocket and just as I suspected I suck at building rockets.  The stupid thing didn't even sizzle, nor move even an inch.  We checked the battery and the launcher prior but clearly I am clueless when it comes to rocket building.  It was pathetic.  I wanted to kick it over but my nephew wouldn't hear of it and decided we could still salvage it and some point in the future.  I hope he forgets about it because I don't think I can spend another minute on that thing but of course if he asks me, I will.
Anyways after our failed attempt we headed off to the beach at 4:00pm so the kids could have a late afternoon swim.  I mean how weird it that?  Trinity and I spent the whole day away from the house and then we went to the beach on a Sunday afternoon.  Everyday is different which is so weird because all my days used to be the almost the exact same.  I do still drive through McDonald's everyday around 10:30 for a large diet coke.  I finally told the gal who takes my money about TT passing away because she always looks in the passenger seat for the TT.  She was surprised and thought I had been leaving Tiara at home for the past 3 weeks and not buying her chicken nuggets.  Could you imagine how mad Tiara would be if she saw me drinking a diet coke from McDonald's and I didn't bring one for her?  She would have given me the business, that's for sure.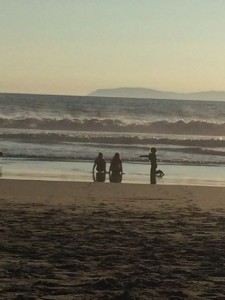 Anyways, later that night while watching the Grammy's with Louie, another first.  Watching something other than Hannah Montana and staying seated in one spot without having to get up every 5 minutes, I got a phone call.  I didn't recognize the number but I answered it anyways.  It was Love Bugs Recuse.  She was calling to talk about the application I had completed earlier in the day.  The lady asked me which dog I was interested in?  "Oh, I have no idea, just a small, sweet hypoallergenic one."  She started describing a bunch of dogs and then asked when I wanted to come see them?  I was a little surprised at how prompt she was and I wasn't even sure if I was ready for a dog, but I decided to go with it.  We made an appointment for 3:30pm the next day for Trinity and I to meet a dog named Sally. 
I got straight on the computer to look at a picture of Sally and got a little nervous.  She seemed very small and sad looking in the picture.  I got so nervous I even filled out another application for another rescue site just in case Sally wasn't a fit for our family.  I emailed the lady in the morning and asked which other dogs were available to meet. There was only one other dog at that point, a dog named Nash.  I had no idea how this recuse thing worked but I guess as soon as they receive your application and take an appointment for someone to see a dog, that dog is unavailable and you go on a waiting list.  Sally and Nash were the only two we could meet that day.  I went to Target and bought collars for both dogs, bowls, a leash and some toys just in case we brought one home that day. 
Trinity and I went to Orange right after school to meet first Sally and then Nash.  Sally was so shy but so totally sweet, we were in love instantly.  I still wasn't sure if she was the one and then Nash showed up.  He was 3 times the size of Sally, sniffing all over the place, marking his territory, a little wild and definitely not a lap dog.  Trinity looked at me in horror and said, "Mom, I like Sally!"  I then said, "Ok we will take Sally.  Do we just get to take her home right now?"  "Yes, make out a check for $300 and I will get her paperwork."  In 15 minutes I became a dog owner!
Sally who we now call Stella is approximately 2 years old.  She was dropped off at the Orange County Shelter on January 21 with 2 of her babies.  We aren't sure if there was more in her liter and if that was her first liter but either way she was already a Mommy at 2 years old.  The owner surrendered her and said she was a miniature poodle mix.  Once Love Bugs Rescue took her from the shelter on January 26, they brought her to a foster home until we adopted her.  They decided she looked more Maltese Terrier mix which is what they told me when I adopted her.  Well, once we got her home and she got comfortable with us it became very obvious she was mostly all poodle.  Her behaviors reminded us all so much of Bailey, our standard poodle who passed away 2 years ago.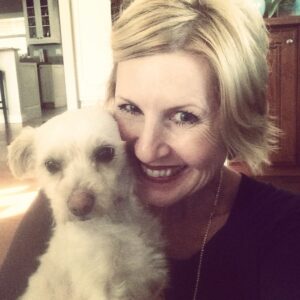 I had prayed for a sweet, easy dog and my prayers were beyond answered.  Stella is literally the most perfect dog I could ever imagine for our family.  She is house trained, she sleeps in her bed next to my side of the bed and never moves until I get up.  She walks on a leash and actually heels which is partly do to the fact she is very scared of cars and loud noises so she wants to stay close to me.  She follows me all day long but doesn't cry or bark when I leave for a while.  I don't need to keep her in a crate.  When I get home from running errands she is either sitting on the couch looking out the window waiting for me or sleeping in her bed.  She is scared driving in the car but each day she shakes a little less during our rides.  She has really long legs and can easily walk with me for over an hour without getting too tired.  She loved Trinity and Tabitha on site and greets Louie with a fast wagging tail when he gets home at night.  Not quite as dramatic as the greeting TT used to give him, but much better than Trinity's and mine, "Hi."
Yesterday I did some gardening or rather pulled the millions of weeds out of our lawn and she just laid on the patio resting.  Later in the day I decided to paint TT's old lime green desk turquoise/robin egg blue and use it for my computer and Stella just watched.  She never tried to mess with the paint or sniff it.  The only problem with Stella is that our house has lots of wild animals living around the area and she is only 11 pounds.  I have to watch her like a hawk and keep her on a leash to go potty in our backyard when it is dark.  We have skunks in the back bushes, we see huge racoons all the time, coyotes and God knows what else.  
Today we are going to Rancho Santa Fe to visit family and Stella is going with us.  She is going to meet my family's 3 dogs and 2 horses and get to walk the trails with us.  I think she is going to need a serious bath after today, but hopefully she will have a blast.
Enjoy the rest of your long weekend. (I know those of you with TSC kids aren't enjoying this long weekend and believe I still remember those days, hang in there.)
xoxo tiffani