I can't even remember the last time I posted and in my mind I'm not even a blogger anymore, but here is a little update on our life.
I have spent every waking moment looking for rentals since the last time you heard from me.   Everything is going great with the sale of our home and we are scheduled to close escrow before July 1.  After weeks of finding nothing in Costa Mesa and Newport Beach I expanded our rental search to Huntington Beach, Fountain Valley, and Irvine.  Let's just saw finding a one story house on a quiet street, with no steps, a large yard, no carpet and in our budget, is not an easy task!
We found the perfect house in Costa Mesa but they wouldn't let me take out the old carpet in the bedroom where Tiara would sleep, so we couldn't take place.  We found a beautiful home in Fountain Valley with all hard wood and marble but the owner didn't seem really happy when Tiara threw her shoes across his dining room during the showing.  They won't return our calls.  We no longer bring her along to showings.  Sad but true.  Not everyone has compassion.

And so it has gone everyday.  I am beyond exhausted, grumpy and irritated and all the girls keep saying is: "where are we going to live, mom?"  My response:  "I don't know!  We have no where to go!!!"
I never take my face out of my phone or the computer as I spend all my time browsing the MLS, craigslist and Westside rentals.  Tiara and I drive and drive and drive through every neighborhood in Orange County looking for the perfect place.  The only reason I am calm enough to sit down and write this right now is because I think I may have finally found the place. Big breath, and lots of prayers.
I don't want to jinx myself but I just had a showing and I loved it.  Everything was new, it did have new carpet in the bedrooms BUT it was super low pile industrial carpet, which would be fine.  They had that type of carpet in her rehabilitation home after her brain surgery and she could breath ok. 
Plus the house was nicer than our place now and even closer to Trinity's school and my family.  It is at the very top of our budget but as Lou said this morning, "He doesn't' care how much it costs at this point, because he thinks I am going to lose my mind if we don't find something soon."  Please pray it works out!
Tiara has been over the top stressed picking up on all of our stress and has really been hurting me.  Today I wore a long sleeve sweater to look at a possible rental because I was afraid the lady wouldn't rent to me if she saw the scratches all over my hands and arms.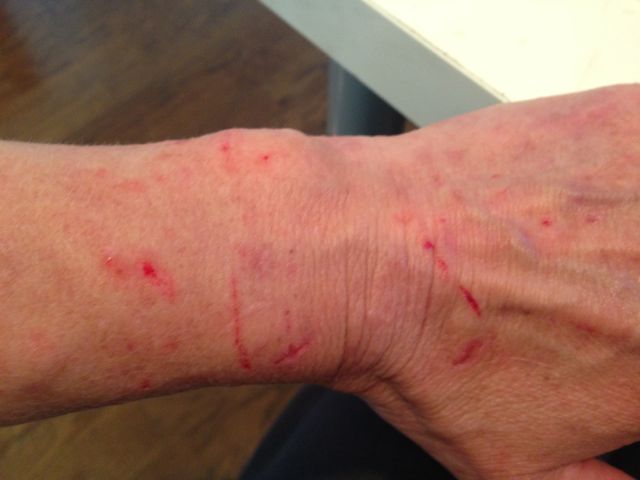 If the place I mentioned works out, we will be moving out July 1. Is that a week from now?  Wow, guess I better get packing.  Lord give me strength.
Trinity left for camp today, so she will be having the time of her life while the rest of us are stressed and miserable.  At least one of us is having fun.
Happy Summer!
xoxo tiffani