This week Trinity got her ears pierced for the third time in her life.  Why you ask at 12 years old would she need to get them done 3 times?  Because in the past they ALWAYS got horribly infected.  I mean pockets of puss forming behind the lobes.  Really disgusting and painful.  Both times in the past we went to Claire's in the mall, picked out the pretty diamonds, paid the girl and anxiously waited for the gun to pierce her ear while a crowd of little girls formed watching the excitement.
This time we tried a much different approach.  We went to the only body piercing studio in Costa Mesa, Barbella.  When Tabitha got her bar put in the top of her ear years ago she told the girl about Trinity's ears always getting infected.  The girl said the gun approach was kinda sketchy and next time Trinity got them pierced she should go to a tatoo parlor or piercing studio.
I did my research and decided Barbella would be the best bet.  Trinity wanted them pierced more than anything but was super stressed about getting them done at a the piercing studio.  I told her not to worry.  The people working there would probably be covered in tatoos and pierced every where but they had great yelp reviews and I figured it would be more sanitary than Claire's.
I was right, both men that helped us were covered in tattoos and piercings but the place was immaculate and they were super professional and nice.  I told Trinity, you can't judge a book by the cover! 
They did a wonderful job and it hardly hurt.  I really wanted to write this post to share their approach to after care which was hugely different from what we learned in the past. 
1.  Don't touch your ears!  Last time were told to twist the earring a few times a day.
2.  No swimming for 4 weeks.  The hole is an open portal in the body and will easily pick up bacteria and become infected.
3.  Wash once a day with antibacterial soap.
4.  Soak the hole in a solution of salt and warm water for 7-10 minutes each day for the first 2 weeks.
This last one really had Trinity and I laughing imagining people soaking their noses, nipples and God knows what else for weeks at a time.
Based on their 4 rules we did everything wrong the last 2 times, so we are hopeful she will avoid an infection this time.
Have a great weekend, we will be driving around checking out rentals!
xoxo tiffani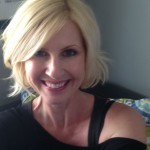 My hubby and biggest supporter