Well, it has been an exhausting 5 days.  I mentioned to you a week ago that I have been dealing with some things I'm not a liberty to discuss with you, which is what I did all of last week and part of today.  It is hard for me because I can't unload on you and instantly feel better and the other problem is that I spend most of my day focused on these 2 huge issues so I feel at a loss when I sit down to write about my day. 
Hmmm, I will tell this…., ohh, can't say that, what about the other thing?  No, can't tell them that either.  Ugh! 
How can I blog about my life when I spend most of my waking hours working on stuff I can't divulge?
Ohhh, well.  What I can tell you is that I spent 8 hours baking on Saturday for Easter Sunday.  If you follow me on Instagram you know I baked a 2 layered carrot cake, lemon bars, chocolate chip cookies, chocolate caramel popcorn and Raspberry magic cookie bars, which was a new recipe for me, and incredibly good.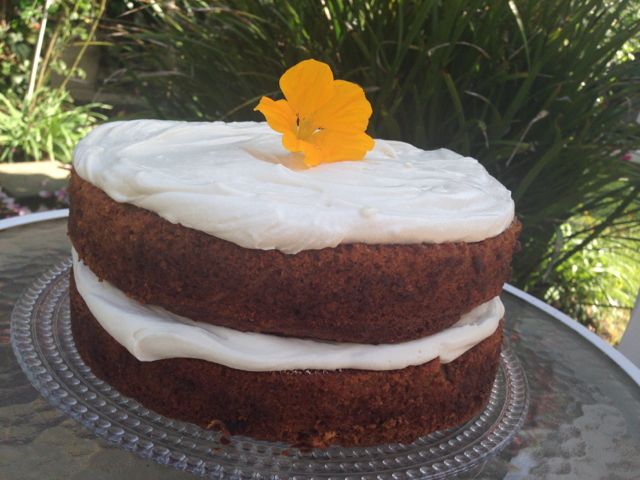 The carrot cake is the sweetest dessert ever and a big favorite in our family.  I will give you the recipe at some point but let me tell you it has 3 cups of sugar and 3 cups of oil.  So good for the arteries and the thighs. 
Of course by the end of Sunday I had consumed 2 full pieces and was super sick since I over ate and hadn't had much sugar in 40 days.  I also ate 2 of the magic cookie bars but never even bothered to try the lemon bars or the chocolate chip cookies.  Lemon bars are too boring for me.  I felt so overloaded with sugar I didn't even drink my wine on Sunday night.  Crazy right?
Ohhh, I just remembered something funny I wanted to tell you.  While I was baking on Saturday, I suddenly realized Tiara wasn't in the living room so I went in search of her.  I suspected she was in my closet tearing all my clothes off their hangers which is her new favorite past time.  She used to do this a while ago and it drove me nearly insane and lucky me, she has started this activity again.  The best part is she goes in my closet for privacy when she needs to do a bowel movement in her diaper.  As she is in there she then starts browsing through the clothes and tears them down until she finds the perfect dress or shirt, normally my favorite black shirt.  She then emerges with a full stinky diaper, wearing one of my outfits, which is obscenely tight.
Back to the story….
As I walked into my bedroom I smelled something burning.  I stopped and sniffed again because I hadn't smelled anything burning in the kitchen when I was baking, so I was confused.  And then I looked up at my chandelier and there was the source of the smell.  Tiara's black capri pants were smoldering on one of the light bulbs.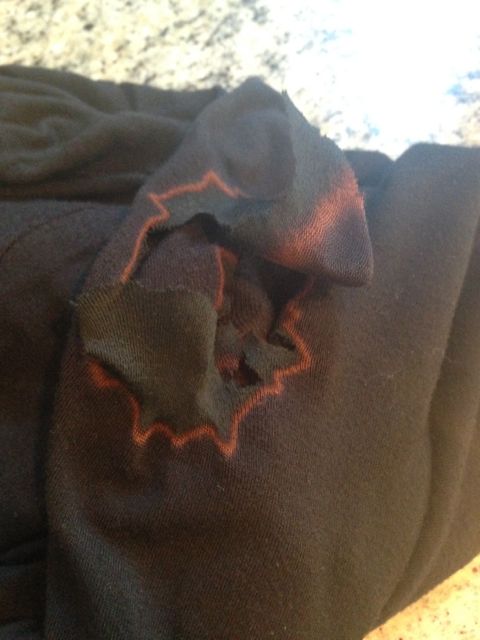 Wow, the house could have burned down because Tiara did a strip tease and threw her pants onto the chandelier.  ONly in our house would that happen.  I mean, look at the hole.  It burned through 2 layers of the material.
Ooops gotta go!  Just heard a catastrophe happening in the other room.  This is what I just found….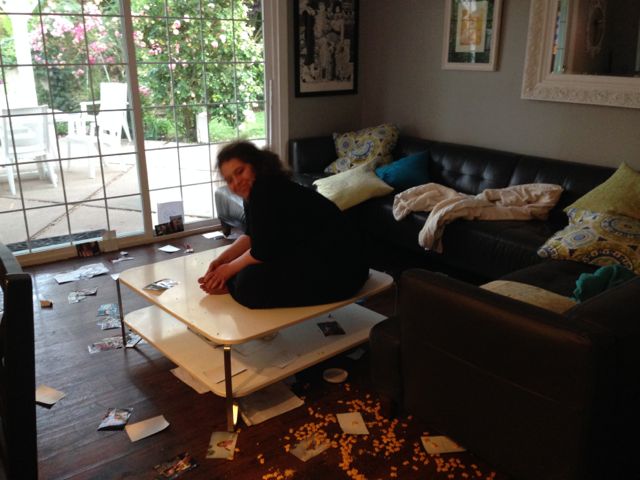 Looks like I have some clean up ahead of me!
xoxo tiffani