If you know me well, you can probably guess what I was doing all weekend.  Hmmmm, what do I normally do after a really stressful event starts to resolve itself?  I paint or I clean.  Yep, I cleaned all day Saturday and now I can barely move my arms or shoulders I am so sore.
It all started when I heard a huge crash on Friday afternoon.  I ran into the hallway and saw the hall closet door opened and a pile of photo albums dumped onto the floor.  The bookshelf I had in the closet piled high with photo albums collapsed.
The truth is I knew the book case was overloaded and breaking but I just hadn't felt like dealing with it.  Tiara has been "picture" mode which means she is in and out of the closet 100 times a day taking photo albums off the shelf.  As you can imagine she has been destroying the albums along the way which stresses me out beyond belief.  Each time I see a torn page, a colored page or a binding crushed I feel panicked thinking about how long it took me to put them together and now they need to be redone.
I decided that I couldn't deal with going to Ikea, buying a new book shelf, putting it together, organize the closet and fix the albums at this point in my life, so I decided to move half of the albums to the book shelf in the garage.  Well that would work except the garage was so messy I could barely walk through it, what's new?
I first had to do a small reorganization of the garage before I could move them.  I quickly moved stuff around and organized as best I could,  then I came inside and looked at the pile of albums again.  Hmmmm, Still not ready to deal with this issue.
Ok, I will clean the inside of the kitchen cabinets and drawers.  This was the second job I had been avoiding like the plague.  I hate pulling everything out of the cabinets and wiping down the insides but mine were disgusting.  Somehow people constantly spill stuff on the granite and it leaks into the drawers and cabinets and no one bothers to wipe it up. 
Yesterday Tabitha was pouring the hot water into my glass pitcher for my passion fruit iced tea and the entire pitcher shattered.  The purple tea spilled everywhere and poured into the drawers.  There was a metal knife in the pitcher which is supposed to prevent the glass from shattering but clearly that wise tale failed me and now I was forced to clean the kitchen even though I didn't want to.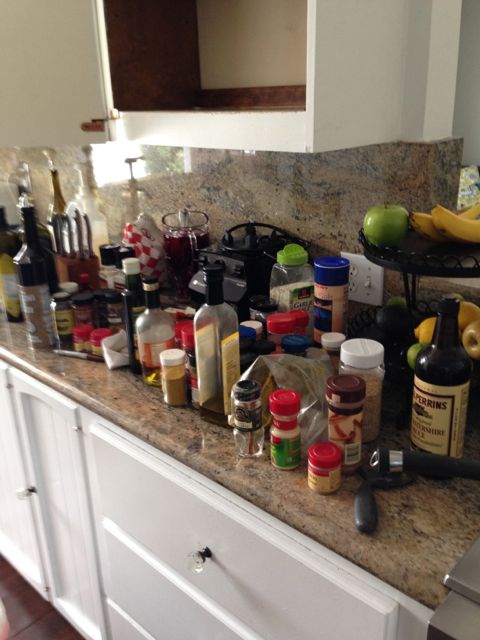 As I was cleaning I just kept wondering if everyone else has to do this job every year like me?  For some reason I doubt that other people have to completely empty entire their kitchen and scrub it down once a year.  The kitchen looks great and I feel super happy I accomplished that job BUT  the photo albums are still on the fireplace.  I guess I will be forced to tackle that job this week.
I also did one other really cool thing this weekend.  I needed to replace my cushions on my outdoor couch but couldn't afford to buy new ones.  Instead of buying new cushions I just went and bought 5 yards of pill free fleece on sale and wrapped them around the old cushions.  I have wrapped blankets around them before and it is really comfortable and you can wash them super easy, so I decided this should work well.  Look how cute and summery my couch looks now.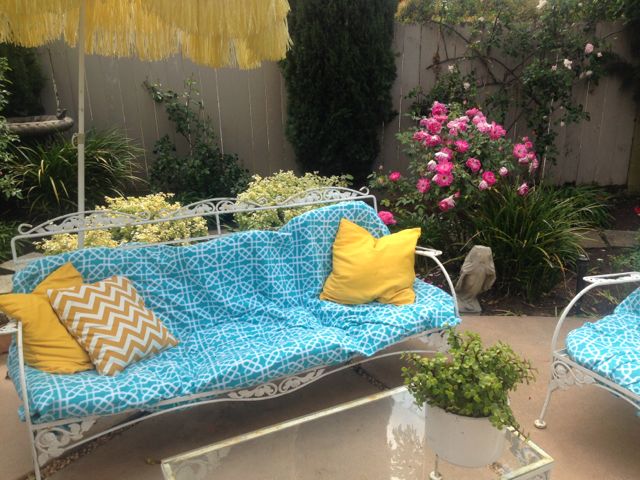 Hope you all had a wonderful weekend.
xoxo tiffani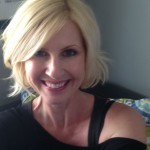 My sponsor and biggest supporter in life