If you receive my posts via email in your inbox 5 days a week, I hope this post was there when you woke up this morning.  Once again I changed email companies and I have no idea if everything worked correctly.  Why did I change again?  First because lots of readers complained about how difficult it was to link to my site from the email.  Second is because I was finally trying to fix my subscription field on my header and I needed what Mailchimp offered, so I switched, hopefully for the last time.
On another note, I was feeling like I really needed to do something creative this weekend.  I wanted to redo my bedroom because I have decided I hate having green walls in that room but that requires time, energy and money.  None of which I posses at this exact moment.  So instead of doing my bedroom, I changed up my blog a bit and fixed that last few things that I needed to do.  Changing up the blog is free, doesn't require moving my butt off the chair and requires a bit of creativity so, mission accomplished. 
I complained to Lou on Saturday that I was bored.  His response, "If you are bored honey, you can clean out my closet, it is a mess." 
me:  "Yeah, no thanks, rude person!  I have plenty of closets and drawers to clean out, none of which I feel like doing."  It then dawned on me, I had lots of boring stuff that I could be doing, but I wasn't motivated to do any of them.  I really wanted to be outside riding my bike, going to the beach, boogie boarding, walking, shopping or anything outside the house but since Tiara's caretaker didn't work all weekend we were stuck at home, except for our walks on Balboa Island.  Oh well.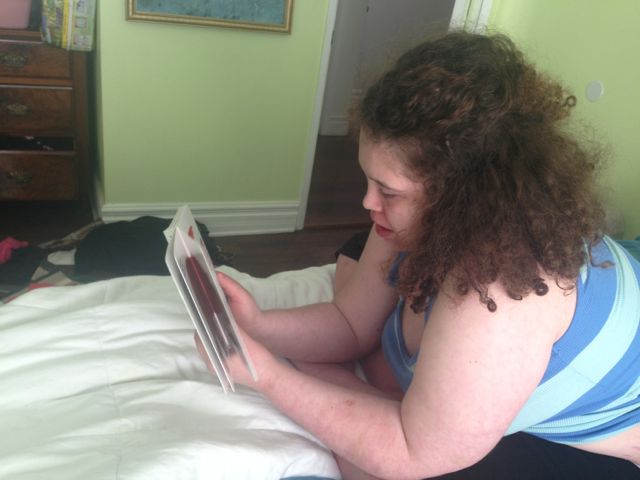 And for some good news.  Look who I found reading out loud to herself this morning?  TT.  Brown bear, brown bear what do you see?  So darn cute I couldn't believe it.  She has been read this book in school and at home since she was 3 years old.  She finally knows almost the whole thing by heart. 
Besides reading to herself she has really been "on" the past few days.  She threw her trash away by herself, returned the juice carton to the fridge when I was thickening her drink and has been talking quite a bit.  She went to scratch Trinity Sunday morning and I yelled at her to stop.  She didn't scratch her but after we talked over and over about how she needed to be "nice, sweet and gentle."  She apologized to Trinity profusely and kept saying, "TT, nice, sweet, gentle."  She really was excited about saying the words over and over again.  After that Trinity thought it would be a good idea to dress her up in a crazy St. Patrick's day outfit for the blog.  So here she is rocking St. Patty's Day.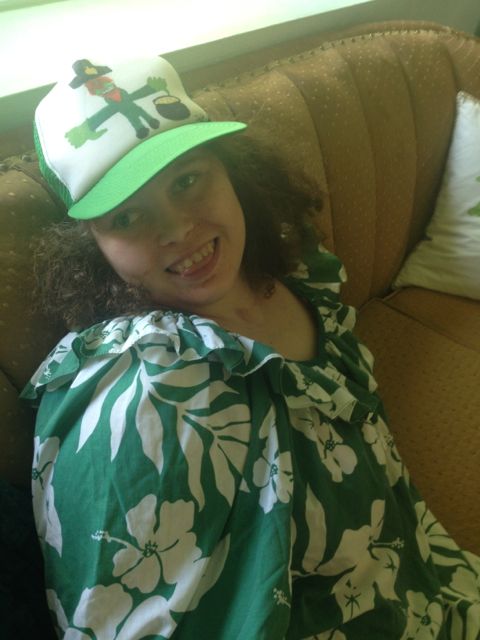 And last but not least, she has been doing better when her teacher comes over to work with her.  Last week she made this banner!  Go, TT!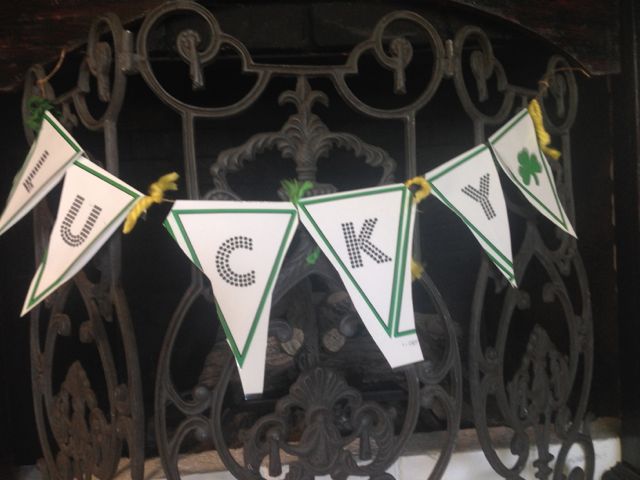 Have a great St. Patrick's Day!
xoxo tiffani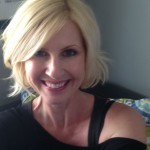 My sponsor and biggest supporter in life