I am writing this instead of watching "everyone" walk down the red carpet.  I figure I will see their dresses a hundred more times before the month is over so why not continue on my roll of activity.  Since Thursday it feels like Lou and I have finished a bunch of stuff we had been putting off.
Lou finally got a root canal Thursday after complaining of pain in his tooth for months. 
We finished our taxes and delivered them to our bookkeeper to prepare and now we wait to see how much we owe.  Oh, that felt good. 
I also finished my Dad's books and printed out the necessary report so he could finish his tax stuff for his accountant. Another burden lifted until next year at this time.
We went away for on Friday night for our anniversary and had a blast.  I did learn on our night away that my hubby is living with more pain than I realized, which isn't good. 
We walked to dinner which was about 4 blocks from where we were staying and we had to stop 3 times so Lou could stretch his back.  His back was in so much pain, the short walk was torture for him.  I felt really horrible for him but now that I know how bad it is, I will be on him to address the issue.  We both know he really needs an MRI of his back to see what is wrong but he hasn't wanted to spend the money.  After Friday night I don't care how much it costs, he has to get the MRI asap and I won't stop harassing him until he does.  He hates when I harass him.
I forgot to mention I did color my hair on Friday before our date.  That was pretty funny.  I bought a packet of bleach and developer and was going to weave a small section on the top of my head to break up the color but once I got everything home I realized I didn't have the brush.  My Mom was over visiting Tiara and after discussing my options, I decided to just wing it. 
I normally color my hair myself but I don't usually weave it.  I sectioned off small areas, put on some gloves and just put the bleach on the sections of my hair with the gloves on.  I did quite a few areas and then left it on for 40 minutes.  A total guess as to how long.  Luckily it came out really great.  My Mom was laughing at me but could totally relate because she always did her own hair when she was younger.  I also did my own nails and toes. 
Saturday and Sunday, I cleaned the house, took Trinity shopping for more crafting supplies, and watched the rest of the episodes of the Foster's with Trinity.  OMG, my favorite show right now!
Trinity finished her science project which is a relief to me even though it isn't my project.  And my biggest accomplishment for the weekend was tackling Trinity's room.  I am forbidden from showing you pictures but I finally went in and helped her tackle it.  I constantly struggle with Trinity's room. 
As you all know she is extremely creative and also very messy.  I want her room to be relatively clean.  All I ask is that the floor is picked up, yet she can't even keep that under control.  I then think "who cares if her room is a disaster if she is creating art and is happy?"  But then the other side of my brain says "Well she is a child and needs to learn to keep her room tidy and be responsible with her crafting." 
Back and forth I go. 
My Mom who is the cleanest person I know and never gives anyone a break on being messy agrees that I should just let her craft in peace and leave the room a disaster.  Shocking this is her point of view.
The problem is that I can't even tuck her in at night when her room is such a mess.  I physically feel sick the moment I step foot in her room, so for me to help her today was really hard on me emotionally.  Keeping my temper and anxiety in check while helping her clean was a huge accomplishment for her and I both.  Now for one day her room nice and tidy and we are both happy with the results. 
I hope you all had a wonderful weekend!
xoxo tiffani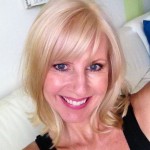 My sponsor and biggest supporter in life.