I have been introduced to some new products that may change my life and quite possibly yours too.  On Tuesday I met with Santa Banta, Stanford graduate, local Mother of 3, health advocate and the creator of accelerated health products.  I know Sara from the community and have heard wonderful things about the products she sells but to be honest I knew that if I met with her I would be spending money I don't have, so I have been avoiding contacting her.
She contacted me while TT was in the hospital and offered to meet and see if her products could help Tiara in the future.   I agreed since I am a total believer in alternative health therapies and I knew one of her products, Scaler Silver, really helps build the immune system, which is exactly what Tiara needs.   In addition, I have a family member who is a total skeptic of anything alternative and she recently started using the Biocell collagen product as a last ditch effort to help relieve chronic pain from arthritis.  Guess what?   It seems to be helping!!!!  
Sara came over to our house today and I loved everything she was sellin.  I was hooked from the moment she started talking the science of the Biocell Collagen and the Scaler Silver products. Ohhhh.  All I kept thinking was, how am I going to justify signing myself up for a month supply of the Biocell Collagen product along with getting TT the Scaler Silver?
Burst of brain activity.
Trade the Biocell Collagen product for advertising on my blog?  After talking about the idea, both Sara and I became really excited about teaming up.  I am going to start taking the Biocell Collagen product as soon as it arrives and periodically post updates about the changes I have noticed in my body, and most importantly in my loss of wrinkles, sans Botox.  I am also going to place a leader board ad under my header so you can easily find her website.
I did buy Tiara the Scaler Silver because it is very reasonable priced and I had no trouble justifying the cost to help build Tiara's immune system.  Once Sara left, I read through some of the paperwork and realized I could use the Scaler Silver to try and get rid of the rash which has covered a large part of my body for the past 7 years.  For some reason it has really flared up right now, so I am really excited to see if the Silver can get rid of it or at least help tone it down a bit.  As you can see from the picture, it has gotten pretty bad.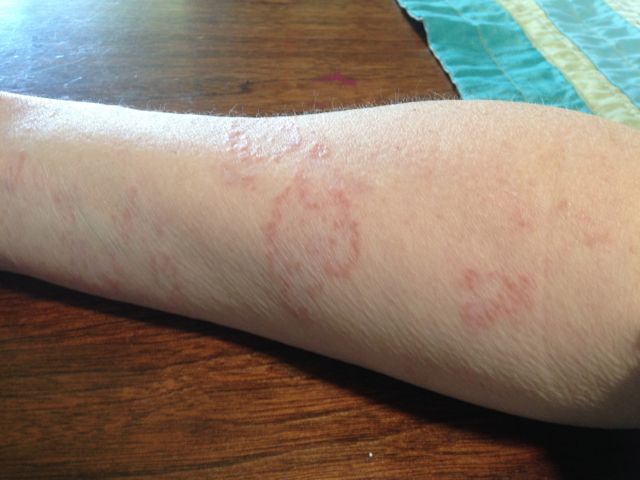 I have also decided to try the Scaler Silver for several weeks before giving it to Tiara, so I know how it feels.  I am going to run it by her doctors, just to be safe.  So not only will I be reporting back to my readers on the Biocell Collagen product but also the Scaler Silver.
So what are the products and what do they do?

It kills all viruses, bacteria, fungus, parasites–any foreign pathogen- with no negative effects.  If you had heard about colloidal silver, this is 20 times more powerful with no side effects like the colloidal silver can have.  Additionally, it increases your energy naturally by oxygenating your blood, detoxifies your blood, turns your blood alkaline, kills all foreign pathogens within 4-6 minutes upon contact, and has many anti-aging properties.  Additionally, it helps inflammation in the mouth, helps with gum disease and kills all mouth bacteria.  All of Sara's family members take the Silver daily, and hardly ever get sick anymore.  If someone does get sick, it lasts a day and no one else gets it.  It is safe for pregnant woman and infants and children.   This product literally saved her son's life …  If you ask her about this, she will freely explain what happened.
This is something that people between the ages of 30-90 are taking and loving the results.   It is an all natural liquid collagen supplement.  Many NFL and other pro athletes are taking for their joint health and arthritis in addition to people in Southern California wanting to get rid of wrinkles and improve skin tone.  Beyond that, the health benefits are so vast that many physical therapist, plastic surgeons, and doctors are putting their clients on the supplement and vets are putting their animals on.   In addition it is literally erasing wrinkles from the inside out (better than botox!), It is also amazing for your heart– it essentially rebuilds your heart in addition to improving the flexibility of your arteries…Also, having your ocular health (eyes) consisting of 90 percent collagen and hyaluronic acid, this helps rebuild that tissue…
If you are like me, you are dying to buy some of products this minute.  Remember I am not getting paid to talk about these products.  I am exchanging my services for her products because I need to have them.  Her company sells many more amazing products, too many to talk about today, but everything is available on her website.
If you have any questions or want to arrange a meeting with Sara, please feel comfortable calling or emailing her.  She is beyond knowledgeable, super sweet, and extremely enthusiastic about sharing her products with everyone.
xoxo tiffani