Ok Tabitha and I are embarking on another eating experience.  I know, I know, we just can't help ourselves.  She is always trying to lose more weight and I am always looking for more energy.
Hence our newest program, "22 days Nutrition" which I heard about from Ryan Seacrest this morning on the radio.  He really cracks me up.  Apparently this program got Beyonce's thighs looking beyond amazing, which really excited Tabitha.  I just enjoy learning new ways of eating and different recipes and each program we try I take something away from it and incorporate it into my life forever.
I really love eating vegetarian but haven't really done the whole vegan thing so I am pretty excited to see how I feel during this experiment.  I have a feeling it will be a easier for me than Tabitha because she isn't a fan of veggies but the recipes offered on this meal plan are very creative and the first one I made, I loved.  Plus I get a few healthy carbs on this plan, which I love.  The recipes are free and you can buy the bars they make at Whole Food's to supplement.  We already use a vegan protein powder in our smoothies so I didn't buy their brand and I just bought a few vegan bars at mother's market instead of driving over to Whole Paycheck.
Here is the rice I made tonight and I am in love!  I changed the original recipe significantly because I didn't have everything I needed so I made adjustments.  Here is my version.
__________Ok imagine you are looking at picture of my rice.  I took a few pictures and then hooked my phone up to the computer and for some reason it restored my phone back to December and I can't find any recent pictures.  I am soooo too tired to figure this out right now, so use you imagine.  Thanks, I knew there was a reason I adore each and every one of you.______________
Brown Rice with Mint
Ingredients:
2 tablespoons of olive oil
1 tablespoon of balsamic vinegar
1 tablespoon of fresh lemon juice
1 tablespoon of Dijon mustard
1 teaspoon of paprika
sea salt and pepper to taste
2 cups of brown rice
5 small organic baby carrots, chopped
1/2 white onion, chopped
3 tablespoons of fresh mint
Method
1. Whisk the oil, vinegar, lemon juice, mustard paprika, salt and pepper in a large bowl.
2. Saute the onion in olive oil until tender and browned.
3.  Add the rice, carrots, sauted onion and mint to the bowl and mix it all together.
Enjoy!
Tabitha just came home and tried it and she loved it too!  It is really refreshing and light for a rice dish.  I served it room temperature but you can also serve it cold.
xoxo tiffani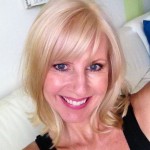 My sponsor and biggest supporter