Before I tell you about Tiara, we have to talk about Valentine's Day again.  Sorry.  Well as you remember I mentioned I wasn't doing anything and Tabitha sighed in response to my comment.  Well, I now know why she sighed.  I guess she thought it was her responsibility to do something if neither Lou nor I were.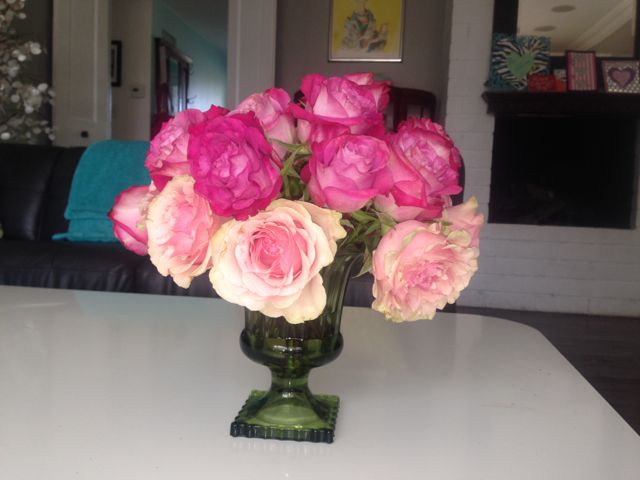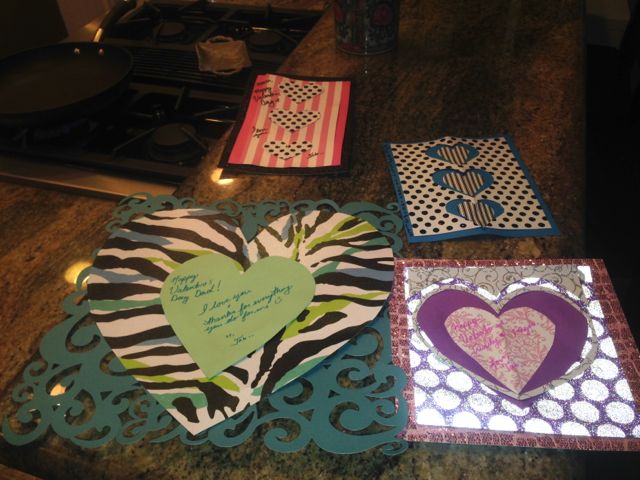 Friday morning we woke up to a room full of pink and white balloons, a homemade valentine for each of us and a bouquet of heirloom roses.  I mean how sweet is she? Looks like all my training paid off.

Later that morning my mother in law came over to watch TT and I made a trip to Costco.  I passed by the chocolate covered strawberries and enormous Valentine cakes and told myself, I didn't need them, even though I really wanted to buy some.  I kept my self control in tact and only left with my regular grocery items, mostly meats and cheeses.  Once I got home and finally unloaded my car full of stuff, I received a text from a friend.  She said she was stopping by to drop off something.  Hmm, wonder what it is?

Thirty minutes later in walked my friend with the chocolate covered strawberries from Costco and a red velevet cake.  It was like she read my mind!  Thank you sweet Carrie! 
Needlesss to say Lou and I have had our fill of cake this weekend, as evidenced by our waistbands.  Of course Trinity who doesn't need to worry about her weight only ate the strawberries, really?
So my anticipated boring, uneventful Valentine's day was exactly the opposite.  It was really great and full of surprises.
As for Tiara she finally turned the corner Saturday afternoon after I decided to take her for a walk around Balboa Island with my parents.  My Dad pulled the oxygen tank, I pushed the stroller, she sang at the top of her lungs and my Mom's job was to glare at everyone who stared at Tiara in horror.  Ha ha, my poor Mom gets so upset when people stare at Tiara.
Anyways after the walk she seemed much better and Sunday morning she started urinating again.  She went three times in a a few hours and all her puffiness was gone.  So in hindsight I know the puffiness was related to the fact she wasn't urinating enough but I don't know what changed except for the fact I increased her evening Depakote on Thursday night.  Since Friday her seizures have slowly started to fade away and now she is urinating.
Coincidence, I doubt it.  After this all happened all I could think about was when our dog Bailey was dying.  He had been sick for a few weeks and suddenly he stopped peeing.  After 24 hours I took him to the vet and he said the cancer had gone to his brain which was why he couldn't get the signal to urinate.  Hmmmm, do you think the seizures were in some way affecting her so that she held her urine?  Another connection I have to this theory is that one of her seizure medications, Potiga, has the side effect of the patient holding their urine.  When she tried Potiga, she did hold her urine and had to stop the medication right away.  Enough analyzing  Tiffani.  Why she is better isn't important just the fact that she is back to herself is all that I care about.
I forgot to mention that she actually stood up by herself on Saturday night and started to walk without help.  That was something to cheer about.
Hope you all had a wonderful weekend!
xoxo tiffani