I pretty much did nothing this weekend except worry about Tiara and take care of her.  Tiara has been very quiet and seems to being having lots of seizures.  I kept meaning to email her neurologist to see if she thought we should increase her medications while she is still recovering and I finally got around to doing it on Friday.  I was rather surprised that once I emailed her, she responded instantly and asked for my phone number.  She called me within minutes.  After talking to me for a bit she asked me to bring Tiara to UCLA medical center and have her admitted and hooked up to video EEG.
What?  "I can't!  We just got home and she is still sick and I am worried she will get another bug in the hospital.  Please, I just can't!"
After further discussion and me begging not to bring her in, we came up with a plan which included increasing one of her medications and watching her closely.  Nothing new there, since my whole life consists of watching her every move.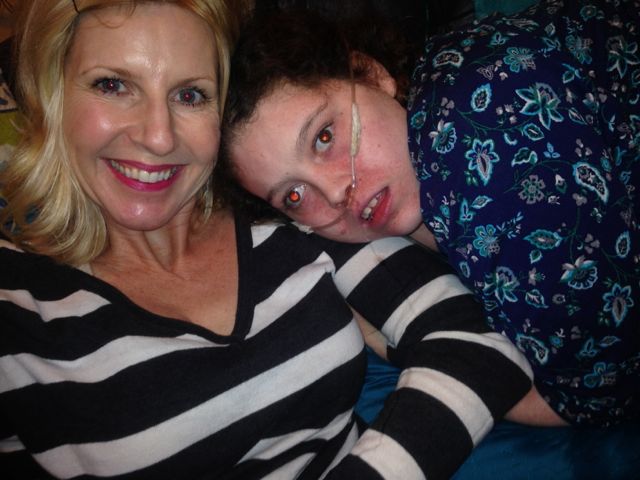 She didn't seem to be having as many seizures, on Saturday which was great, but she woke up puffy in the face.  "Why is she puffy?  Are her kidneys not working right?  Have we gone down on the Lasix too quick?"
She urinated normally on Saturday and was really spunky so I didn't worry too much about the puffiness but I was definitely thinking about it in the back of my mind.  I did some online research and contacted a TSC Mom whose daughter has had chronic kidney problems since she was diagnosed and recently had a kidney transplant.  I ran a few questions by her and felt a little better,that is until I work up on Sunday morning and saw she was even puffier.  "What the hell?"  I first checked her diaper, and it was almost full.  Thank you Lord!  Even though I was happy about the urine, I still felt panicked and have been ever since I saw her face at 5am.
I called the pediatrician at 8am, explained the situation and asked for more Lasix.  She called some in for me, but wasn't really helpful in relieving my stress because "she doesn't really deal with acute kidney injuries on a regular basis".  Hmmm.  Now what? 
I just kept reviewing everything I knew about edema which I learned in the ICU.  "It is dangerous if there is too much fluid around the lungs and the patient can't breathe well".  Ok, check her oxygen level regularly and make sure she is urinating.  Well, Tiara refused to drink much, no matter how much I begged her and not until 7:30 tonight did I finally get another 2 wet diapers.  UGH! 
I hate not knowing what to do!  I can do neurology and pulmonary issues but I have such limited experience with the kidneys I feel totally lost in determining what is or isn't an emergency.  All I know is that the second I get her up tomorrow we are going to the doctors and having them get her into a nephrologist ASAP.  I just need to keep her out of the hospital!  Wish us luck!
xoxo tiffani