Happy New Years Everyone!  Sorry for the lack of posts but as you may have figured Tiara gave me her illness.  The weird thing is that I was super nauseous and achy but did not throw up like her.  It is 1:30 in the afternoon on New Year's Eve and I just got out of bed.  Erin is watching Tiara and is leaving soon so I decided I better get up and see how terrible I feel.
It's official I feel terrible and am not dancing around like my sweet Tiara was after a night of vomiting.   She is way stronger than her Momma.   As for our New Year's Eve tradition it isn't going to go so well since Tiara still isn't eating much and I haven't eaten anything since yesterday.
I always make a bunch of really yummy appetizers for New Year's Eve and we set up a picnic on our coffee table and pig out.  Trinity really doesn't care that we are too sick to eat she has started cooking already.   She is starting on the caviar pie, her favorite appetizer.  My friend Aimee served it to us about 14 years ago and we have been eating it ever since.   It is really funny that Trinity's favorites are  sushi and caviar just like her Momma. 
Anyways, since she is making it and I am too sick to take pictures and write out a full recipe here is the basic idea if you would like to try it.
Caviar Pie
6-8 hard boiled eggs, chopped
1 brick of softened cream cheese
1  container of sour cream
2 tablespoons of finely chopped onion
1 or 2 jars of caviar depending on the weight.
Boil 6-8 eggs, chop, smash or crumble into small pieces.  Add 2 tablespoons of mayonnaise and spread into the bottom of glass pie plate or any shallow pretty dish about the same size.  Beat the sour cream and cream cheese until smooth and spread over the egg mixture.  Add finely chopped onions or even capers for the next layer.  We don't like raw onions, so we leave those out.  Next spread the caviar across the top just before you are ready to eat and serve with crackers.  Seriously, if you are a caviar lover, you will adore this dish.
I will post a picture next time after Trinity finishes making it.  She has decided that since I am too sick to eat, she will get the whole pie to herself until Lou gets home from work, which might be very late.  Last day of the year is always a busy one.
Love and best wishes to you all for a wonderful and safe New Year's Eve.  I don't believe in New Year Resolutions but if you do, I hope they include spending more time with family, and enjoying life at a slower pace.  Being kind to others, courtesy to everyone you encounter, honesty and appreciating one's life daily, is always a good start for any day, especially New Year's day.
xoxo tiffani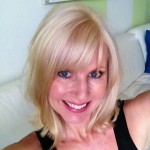 My biggest supporter and love