Our whole family had a great Christmas, especially Tiara.  Every morning she would wake up and say "good party, fun, fun."  Saturday I decided to clean up all the decorations because Tiara was tired and really not wanting to do much so it was easy to quickly put everything away.  Trinity was at a play date and Tabitha was sleeping off her days of constant working and constant partying with all her friends who seem to be tuning 21 right and left.
Lou of course was working and came home around 6:30 to find all his girls spread across the couch.  We were all watching TV on the new couch, which I totally love, when suddenly Tiara started coughing.  She got this really funny look on her face and I jumped up and grabbed a towel.  I knew the threw up was coming any minute. 
Unfortunately I was right and managed to get the towel in front of her before she got it everywhere.  Lou got the bowl and tried to help me, while Trinity ran for the thermometer and Tabitha got more towels.  When Tiara throws up we always need to determine if it is a virus/stomach flu or a seizure.  If her temperature is low, it is a seizure and we need to give her Diastat (rectal valium).  Her temperature read, 99.1, "crap, she has the stomach flu."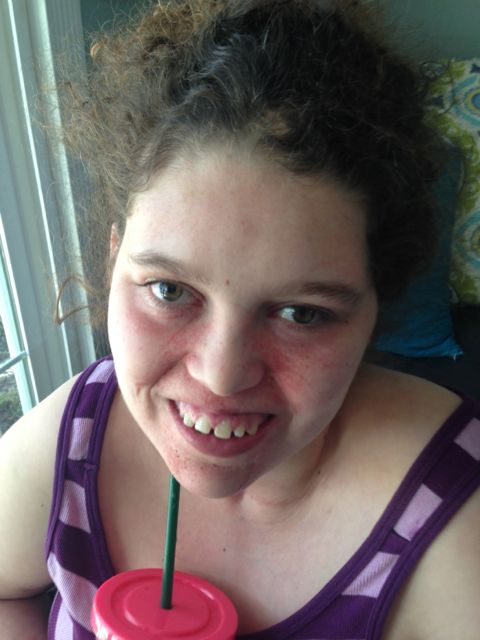 Of course everyone hates the dreaded stomach flu and both of the girls looked at her like she had the plague.  "Are you sure it is the flu, Mom?"  "I'm pretty sure."
An hour later they had both disappeared from the family room and retreated to their rooms since Tiara kept throwing up every 10 minutes.  Every time Trinity heard her throw up she would run and tell Tabitha so she could keep a record on her phone.  The girls will be great Moms when they grow up.  They always start documenting what her temperature is, how often she vomits, when I gave her Motrin/Tylenol.  Lou was really helping me with the whole thing but he doesn't do good with bodily fluids so he kept making grimaces and dry heaving sounds.  Finally by midnight we were both staggering with exhaustion and I was getting seriously grumpy because she couldn't sleep.  We all dosed off at 1am and slept for an hour straight when I suddenly smelled something really bad.   I got up and walked around to her side of the bed and saw diarrhea everywhere.  On the floor, on the bed skirt, on the sheets, on the comforter, on a pillow and all over her body.  I just stood there trying to determine how I was going to clean it up and she woke up and kept saying, "sorry, sorry, my fault, my fault."
me:  "TT it's fine, I'm not mad, you're sick honey, it's ok." 
No matter how much I tell her it is ok she always says sorry over and over again.  Makes me feel like an abuser of something, even though I have never gotten mad at her for having to clean up a diaper.  Anyways I came up with a plan and tackled the scene and then told Lou to clean up the plastic mattress pad with simple green while I sat with TT on the floor.  Tiara was in pretty good spirits and we were both watching Lou clean like a weirdo.  He was acting so weird about his movements I couldn't figure out what was wrong with him.
He finally looked over at us and said "Diarrhea is toxic!  That's why we have to wear the mask, gloves and gown when she has diarrhea in the hospital.  It's dangerous."
me:  I just looked at him in utter disbelief.  Was he serious right now?  Poop is toxic?  I was too tired to make some rude and cutting remark and give him a lesson on c-dif, which is acquired in a hospital setting and is highly contagious, as opposed to regular poop when Tiara said:
"Oh my God, Oh my God, Dad!"  She then started laughing her head off at him.  She seemed to totally understand that his reasoning was crazy and she couldn't stop laughing.  I was laughing too and the whole thing became hilarious.  The rest of the night every time she woke up she would laugh and say "Oh my God, Dad."  All day I keep thinking about that moment and would laugh to myself. 
We finally all got in a few solid hours of sleep and then it was time to do Tiara's morning medications.  There is when the stress hit me.  If she could keep down her seizure meds without vomiting them up we would probably stay out of the hospital but if she couldn't keep them down I had to take her straight to CHOC.  I have instructions from her neurologist to take her straight to a hospital if she misses a dose of her meds because she will likely go into status. 
I spread the meds out, 15 minutes apart because that is how long it usually takes for a medication to be absorbed into the body.  I started with the most important seizure medication and worked my way through all 5 and she kept them all down.  YAY!!!  I was beyond happy and grateful.  I was so not in the mood for a hospital stay.  We both went back to bed and slept for 4 hours, while Lou went to work and the other 2 made themselves scarce from our disease infested house.  She is now up from her nap and is dancing and watching her show, so it looks like she is going to be fine.  Now I just have to pray the rest of us don't get it.
Hope everyone had a wonderful holiday!
xoxo tiffani