This is the question Trinity asked me on Friday afternoon after I told her I had taken Tiara to the doctor's earlier in the day because she was coming down with a cold.  The way she phrased this question really struck me.  How many 11 year old's would use the phrase "life threatening"?    It just made me think about her life as a sibling to Tiara.  Everything is always uncertain in our lives.  What is no big deal for a regular person could possibly be catastrophic to her sister. 
The good news is Tiara has been sick with a cold since Thursday but as of Sunday morning I haven't had to start her on antibiotics.  She hasn't spiked a fever and her oxygen levels have remained steady.  Serious good news.  It looks like she may make it through this cold without a secondary infection which would be a first.  I am thinking the high potency multivitamin and super expensive probiotic I have her on are really helping her immune system fight this virus.
As for more good news, Trinity hosted her annual Gingerbread House Decorating get together on Friday and everyone had a great time.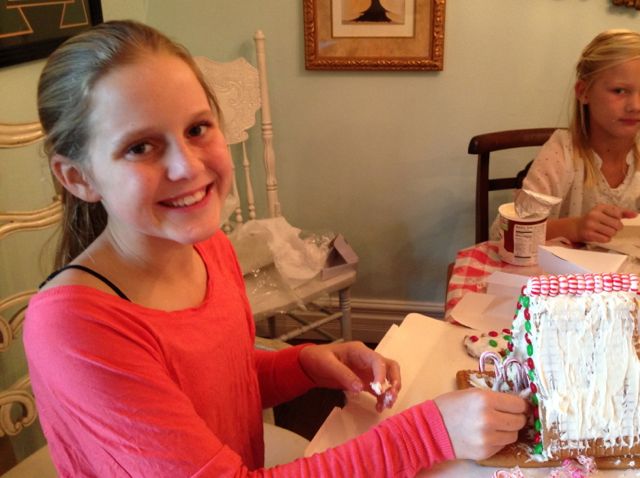 In the past Tiara would participate in the party but this year she would have nothing to do with it.  Which was fine by Trinity.  She got to enjoy her party without Tiara causing a scene. 
Saturday was all about Trinity too because my sister gave her a gift certificate to Fashion Camp.  You could stop in any time on Saturday and make a stocking.  When Erin showed up I drove her over there and assumed she would only spend about 30 minutes at this place.  I should have known better, what was I thinking?  Two hours later and all my free time gone, she was finally done.  Of course she made a great stocking and next time I will plan accordingly as I sure she will go back to Fashion Camp.  It was a really cool place.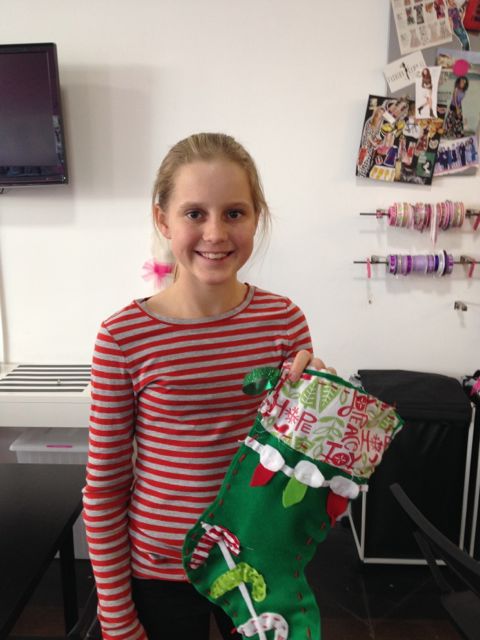 And now for Saturday night.  Lou and I were supposed to attend his 80's themed work party and as of 4:00p.m. I didn't have an outfit and wasn't feeling super good as I had caught Tiara's cold.  Nevertheless after a big diet coke(shhh, don't tell anyone) and some searching in all the closets I came up with my biker inspired 80's look.  I mean this is what I was wearing in 1989 so I went with it.  I didn't go traditional Cyndi Lauper/ Madonna 80's but who cares, it worked and I didn't have to buy a thing. 
Lou on the other hand was going to wear a bright yellow Polo shirt with the collar popped but when Tabitha saw my outfit she told him he couldn't wear his.  She thought dorky preppy 80's guy meets biker chic wasn't a good look, so she made him change to the black shirt with the chain hanging out.  I did tell her that when I met Lou he was always wearing some weird bright shirt with tight 501's and I was always in some black get up but since she is the cool one in the family we let her dictate our clothes.  It makes her happy.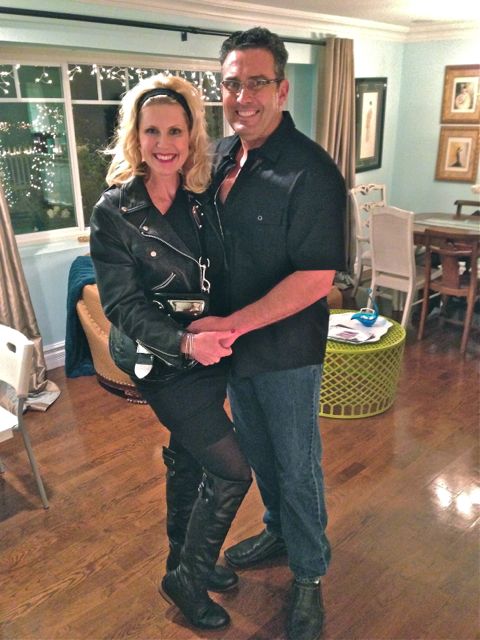 We stayed at the party a whole 2 hours and were home by 8:30 p.m.  I thought that was pretty good for us.  We are so old and tired it was really a stretch to actually get us both there, so we were proud of our efforts.  When we got home Trinity and Grandma were still cleaning the kitchen.  Trinity decided to make homemade pizza which tasted great but was super messy.  I love getting glue (hardened flour and water) off the counter tops.  I explained to Trinity that you have to wipe it up right away and she gave me her normal "Ok, Mom, I got it."
Guess she didn't totally get it because when Tiara and I woke up on Sunday the kitchen was a disaster!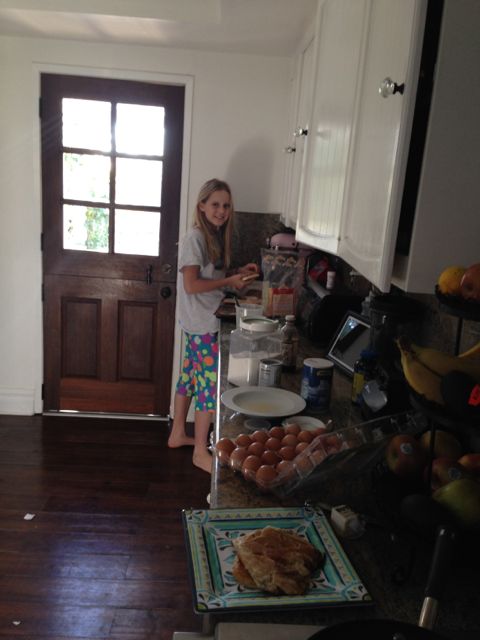 Her pizza was so successful the night before, she decided to make homemade pancakes.  More flour and water hardened on the counter.  Of course I applauded her efforts and Lou loved the pancakes but I so wasn't up for another mess because I was supposed to start the holiday baking for Lou's work later in the day.  The last think I wanted to do was clean up a disaster the second I woke up.  Oh well, looks like her creativity has moved into the kitchen.  I forgot to mention that she tried to make me an 80's inspired skirt for the party last minute.  It was cute but I explained the Halloween material might not go over well, plus my legs couldn't handle a skirt that short anymore.
Hope you all had a wonderful weekend. 
xoxo tiffani