Maybe I'm old fashioned in the dressing department but can someone please tell me how it has become acceptable for grown adults to wear pajamas out in public?  Of course I can accept cute little kids in the bagel store or on a morning run to the market in their pj's and can almost understand teenagers doing the same, but adults?  This is crazy!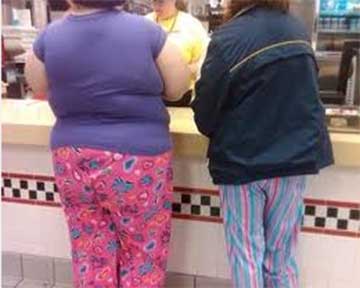 Last Saturday I was driving down Irvine Avenue, a busy street, around 10am when I saw a man wearing plaid pajama pants and a white t-shirt while walking his dog with a lady dressed in clothes.  I was kinda shocked.  I have seen plenty of girls doing this type of thing, which I don't agree with, but not now men?  It just made me think "what has happened to our society that people don't have any respect for the way they dress in public."
This whole thought process of mine was confirmed yesterday as I was at the mall picking up Lou some shirts.  I was driving through the Nordstrom's parking lot when this filthy guy in an orange shirt and jeans walked in front of my car and I wondered, "Hmmm is this homeless guy hanging out in the parking lot"?  I then looked at him closer and realized he was carrying a little aqua colored bag from Tiffany's.  What!  Did that guy with literally dirt on his face, pants and shirt, just go into the most famous jewelry store in the world and buy a gift for someone looking like that?  I was flabbergasted.  I considered trying to capture a pic but that is way too dangerous while driving, so I kept going. 
Within a 2 minute period of time, while trying to navigate through the busy parking lot I also saw a young girl about 18 wearing almost no clothes.  She had on cut off jean shorts which exposed the bottom of her butt cheeks and a cut up tank top that exposed almost every inch of her black lace bra.  Wow! 
I then saw a girl about 22 years old, who was fairly overweight weighing tight shorts, a fitted halter top that cut across her flesh with huge wedge heels.  She could barely walk in the fitted outfit and heels and looked totally awkward, uncomfortable and ridiculous.
All I could think about was, "why don't you buy a bigger size and get rid of the heels, you look so silly!"  Sorry if that seems mean and or judgmental but really anyone of any size can look nice even if they don't have a lot of money. 
My Mom always taught us to dress for our own personal figure and style.  She told us not to wear clothes that look terrible on,  even if they are in style, .  For example, if you have a large belly roll, don't wear a shirt exposing your midriff, just because it is in fashion.  If you have large thighs avoid short tight skirts.  Wear a longer flowing skirt instead, etc, etc.  And most important, don't walk around looking like a slut or people will treat you like one.  Women can look pretty and sexy without showing off every part of their body.
Luckily I have ingrained these thoughts into my girls, one because I don't dress revealing so as to set a good example and two because I always buy my clothes a size too big so they hang nicely since I can't afford expensive designer clothes.  They think it is funny I always buy such big sizes, but now Tabitha has followed suit and does the same thing because she realizes it is not about the number but how you look in the clothes.

Wow, I really went off on tangent. 
In conclusion, always dress for your body type, please wear clothes in public not your pajamas and if you have a daughter please teach her how to wear more clothes than a prostitute.
Have a great weekend!
xoxo tiffani